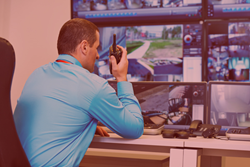 (PRWEB) January 26, 2017
DFW-based Fortress Security, a home and business security system installation specialist and provider, announced the addition of video alarm verification services for all residential and commercial security systems in their service areas, including Dallas, Fort Worth, Austin, San Antonio and Houston.
With video verification, when a surveillance camera notices activity, the monitoring alarm center receives notice right away. A trained alarm center operator reviews the video footage, verifies the activity in-progress, and reports it to police immediately. A burglary in progress via video is then issued a higher priority. Burglaries in progress are assigned as "priority 1" compared to a traditional alarm triggered without video verification, which is assigned as "priority 3." The escalation in priority level from 3 to 1 means a faster, more immediate police response, a safer environment and a decreased likelihood of casualties or property loss.
What is Video Alarm Verification?
Video verification is proving to be a win-win-win for security providers, property owners, and law enforcement. For homeowners and business owners, video verification provides a quicker response time by police. Validating an alarm trigger with video of a burglary or attempted burglary in progress, minimizes wasted time and money for law enforcement and enhances the safety and security provided by alarm systems and for first responders.
In recent years, Fortress has also responded to consumer trends favoring connected personal technology by offering smart home capabilities with home security systems. The demand for home automation has spiked in recent years, moving beyond the luxury market into the mainstream, as mobile applications have made implementation easier and more cost-efficient.
Basic residential service costs start at $17.99 per month, a lower price point than top industry competitors. Commercial service costs vary depending on size and requirements.
Fortress Security offers the affordable I-View Now technology video verification. This cloud-based central station video interface works with most current alarm systems. The service is web-based and does not require software or a dedicated application.
If you're looking to upgrade your system with video verification, or if you'd like to find out more information, contact Fortress today to learn more, http://www.fortresssecurity.com or (817) 226-7233.
About Fortress Security
Founded in 2001 in Arlington, Texas, Fortress Security configures and installs customized business and home security systems. Popular products include burglar alarms, surveillance cameras, and remotely accessible home automation systems, all supported with 24-hour wireless monitoring services for crime, fire, and medical emergencies. With 17 years of experience in the security industry, owner Jerrod Smith has led his company to earn the Honeywell Dealer Council of Excellence and ITI/GE Americas Dealer Excellence Award.
For more information, visit http://www.fortresssecurity.com.