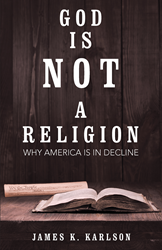 DANBURY, Conn. (PRWEB) January 30, 2017
A Danbury author has released his debut book that discusses the decline of the U.S. and the critical steps that must be taken to remedy divisions between Americans. "God is Not a Religion," by James K. Karlson, calls for the nation to return to the original intent of the principles delineated in the U.S. Constitution.
With short, simple chapters, Karlson breaks down topics such as religion, racism and political correctness and intertwines biblical teachings with reflections on the current state of American attitudes and politics.
"This book discusses the relationship between humans, science and God," Karlson said. "It examines the American experiment and emphasizes the need for Americans to return to the founding fathers' principles, which set this nation on a journey to be the light and envy of the world."
"God is Not a Religion" calls for readers to take responsibility for their roles in the democratic process. Challenging popular notions of what it means to be American, Karlson highlights the need for the country to reunite as one nation under God.
"God is Not a Religion"
By James K. Karlson
ISBN: 978-1-480-83390-6 (hardback); 978-1-480-83389-0 (paperback); 978-1-480-83391-3 (electronic)
Available at the Archway Publishing Online Bookstore, Barnes & Noble and Amazon
About the author
James K. Karlson, the son of an immigrant from Sweden, has worked in the chemical industry as a chemist and business executive for 40 years. He currently resides in Danbury, Conn. To learn more, please visit http://www.godisnotareligion.com.
###
Review Copies & Interview Requests:
LAVIDGE – Phoenix
Danielle Grobmeier
480-998-2600 x 614
dgrobmeier[at]lavidge.com
General Inquiries:
LAVIDGE – Phoenix
Maggie Driver
480-998-2600 x 584
mdriver[at]lavidge.com