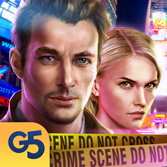 Put your skills to the test with this riveting crime investigation game!
San Francisco, California (PRWEB) January 27, 2017
Have you ever dreamed of becoming a detective? Or maybe you're obsessed with CSI and other crime shows? If so, G5 Games' brand new free-to-play adventure – Homicide Squad: Hidden Crimes – is right up your alley. The in-depth investigations and detective-themed puzzles will immerse you right from the first screen.
Game Description:
Join the famous NYPD Detectives Turino and Lamonte and help return law and order to the streets of New York. A series of sensational murders has turned the city upside down, from a bloody fountain to a man frozen in a barrel of water. Head to the crime scenes and show your sleuthing abilities. To solve these dreadful homicides, you need to be painstakingly diligent as you explore lots of locations for clues, find and use hidden objects, interrogate suspects, analyze evidence in the laboratory and arrest the perpetrators. And that's just the beginning.
This version already has:

Nearly 300 absorbing quests
15 stunning locations
Five uniquely complicated cases
29 unforgettable characters
Plus, more criminal cases, locations, characters, quests and levels are coming in regular updates that are absolutely FREE.
When: January 3, 2017
Where:
App Store: Homicide Squad: Hidden Crimes for iPad
The game is developed and published by G5 Entertainment AB (NASDAQ OMX: G5EN).
For additional information please contact: olga.omelchenko(at)g5e(dot)com
About G5 Entertainment
G5 Entertainment AB is a developer and publisher of free-to-play mobile games, focusing primarily on the adventure and puzzle genres. G5's three top games are Hidden City®, Mahjong Journey® and The Secret Society®. The company is listed on the Nasdaq Stockholm main list and has recently announced it has generated over $100 million USD from its Hidden Object and Hidden Object Adventure games. In the most recent quarter, July-September 2016, G5 reported revenue of 126 MSEK (approx. $14.2 million USD), up 31% compared to the same period in 2015. For 2015, the company reported revenue of 384 MSEK (approx. $46 million USD), which represents 48% growth compared to 2014. Over 60% of G5's revenue comes from the US market. The company employs over 280 people and has offices in Russia, Ukraine, Malta, Sweden and the US. For four years in a row, G5 has been named to Deloitte's Technology Fast 50 - a list of the fastest-growing tech companies in Sweden.
More information about the company can be found at: http://www.g5e.com/corporate.
Press Contacts:
Olga Omelchenko, PR Manager, olga.omelchenko(at)g5e(dot)com.