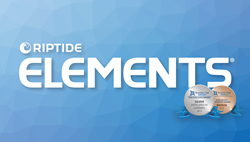 The Elements team is thrilled and very grateful to once again be recognized by Brandon Hall Group. Riptide's highest priority is our valued clients and we thank them for trusting us as part of their learning technology solution." - Nick Washburn
Orlando, FL (PRWEB) January 27, 2017
Elements®, Riptide Software's enterprise learning technology product line, was recognized for the second year in a row by Brandon Hall Group's 2016 Excellence Awards as a "Best Advance in Learning Management Technology." Now entering its 22nd year, the awards recognize the best organizations that have successfully developed and deployed revolutionary SaaS products in the learning and development space.
Nick Washburn, Riptide's Director of Learning stated, "Wow, two in a row! Riptide Software thrives on solving complex software challenges, it's a core part of our 20 year history. The Elements team is thrilled and very grateful to once again be recognized by Brandon Hall Group. Riptide's highest priority is our valued clients and we thank them for trusting us as part of their learning technology solution."
Riptide Elements® learning technology products are offered as SaaS (Software-as-a-Service) solutions to make it easy for companies large and small to modernize their learning and development without replacing their LMS.
The Elements product line includes:
Storepoints - Learning Record Store (LRS) collects, stores, and integrates better learning data throughout the enterprise to track learning effectiveness.
Waypoints - In-line Software Training allows users to learn by doing through workflow simulations and competency assessments within the software.
Learnpoints - Interactive Multimedia Instruction Courseware delivers interactive learning content to any device, in any language.
Additional Elements implementation options include: Learning & Performance Analytics Tools, Basic LMS, Learner Portal, Admin Portal, Curriculum Management, xAPI Consulting, Professional Services.
Riptide Elements has delivered device agnostic, interactive instruction to over 500,000 users in 92 Countries, and in 32 Languages.
About Riptide Learning
The Riptide Learning Division brings the Riptide Elements® product line of learning technology solutions to the modern enterprise. Elements is a flexible, scalable, and configurable platform of learning solutions that works seamlessly with existing enterprise software systems to unlock their full potential in a non-disruptive way. Riptide Learning team members are active participants in the community developing xAPI—the standard in modern learner experience tracking.
About Brandon Hall Group
Brandon Hall Group is a preeminent research and analyst firm, with more than 10,000 clients globally and more than 20 years of delivering research-based solutions that empower excellence in organizations. Brandon Hall has world-class research, data and expertise in Learning & Development, Talent Management, Leadership Development, Talent Acquisition, and Workforce Management. The Team leverages their ever-expanding and extensive base of research to create methodologies, tools and frameworks that unlock the value of the key practices and apply them to organizations.