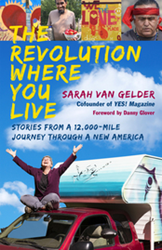 Looking for hope? Here's where to find it. An inspiring account of the grassroots leaders throughout the United States who are confronting racism, the climate crisis, and poverty. —Van Jones, CNN cohost, author, and activist
Oakland, CA (PRWEB) January 27, 2017
"I love that this book documents the incredibly powerful and dynamic movements that are taking root around the country. Read it!"—Mark Ruffalo, actor, director, and film producer
The Revolution Where You Live couldn't have come at a better time. If Woody Guthrie had penned a book to go along with 'This Land Is Your Land,' it might have read like this. —David Bornstein, New York Times columnist and cofounder of Solutions Journalism Network
___________________________________________
In late 2015, Sarah van Gelder, author of The Revolution Where You Live: Stories From A 12,000-Mile Journey Through A New America, drove through the American heartland, covering 12,000 miles over the course of four months, living in her tiny truck camper, exploring the plains and mountains of the west, Native reservations, rust belt cities, Appalachian hamlets, and southern cities. She stopped often and listened deeply, taking time to hear people's worries and draw out their hopes and plans for change. Van Gelder called this immersive style of reporting "slow journalism."
The Revolution Where You Live contains stories, mostly from so-called "red states," of the people building locally rooted economies, working for racial justice, and resisting mining and fracking projects. These stories offer hope for building a better world at a time when national politics is hostile and gridlocked. Van Gelder invites readers to be part of making the shift in their community. She finds hope in grassroots stories of people breaking through crippling isolation and overcoming historic divides, of people building a new economic foundation and discovering the power they have to make transformative change. She even provides a helpful list of tips for readers – "101 Ways to Reclaim Local Power" (see excerpt below).
About Sarah van Gelder - Book Tour Schedule
Sarah van Gelder is co-founder and editor at large of award-winning YES! Magazine, where she writes a bi-weekly column, also called, "The Revolution Where You Live." She explores the leading edge of change, writing and speaking internationally on topics ranging from cooperative economics to mass incarceration, from health to sustainable lifestyles. Van Gelder is a regular guest on public radio and has also appeared on the PBS NewsHour program, Thom Hartmann's Big Picture, Democracy Now!, The Laura Flanders Show, and Free Speech TV.She is the editor of the books This Changes Everything: Occupy Wall Street and the 99 Percent Movement and Sustainable Happiness: Live Simply, Live Well, Make a Difference.
Berrett-Koehler Publishers is a mission-based, independent publisher located in Oakland California. The press publishes books in the area of social justice, politics, economics, business, and green energy.
Publication date: January 2017, $18.95, paperback, 240 pages, 5.5" x 8.5", ISBN 978-1-62656-765-8
###