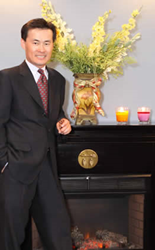 Anaheim, CA (PRWEB) January 26, 2017
Dr. Jin Y. Kim, a world-renowned periodontist, is pleased to announce that patients with or without a referral can now turn to him for treatment for their missing teeth in Anaheim, CA. Dr. Kim understands the effect that missing teeth can have on a person's self-esteem as well as their personal and professional lives which is why he is dedicated to teaching patients the benefits of dental implant placement.
Dental implants are quickly becoming a leading tooth replacement option across the world due to their stability and esthetic benefits. According to the American Academy of Implant Dentistry (AAID), more than three million Americans have dental implants and each year that number increases by more than 500,000.
For each dental implant placement, Dr. Kim utilizes the latest technology, including 3D imaging, to improve the patient experience and increase accuracy. Dr. Kim first surgically places a titanium post in the jaw bone that acts like the tooth root, offering reliable stability. Once this has fully healed, the root is capped with a custom-designed crown that is affixed with the help of an abutment piece.
When properly cared for, dental implants can last decades. They are also vital in slowing and stopping bone loss in the jaw. When teeth are no longer present in the jaw, the bone is no longer stimulated to grow and thus loses bone density. When an implant is placed, the body recognizes that area of the jaw is once again receiving stimulation, and stops the degradation of the bone.
With a 98 percent success rate, dental implants are a great choice for patients to replace their missing teeth in Anaheim, CA. Those who would like to learn more are invited to contact Dr. Kim's office to schedule an appointment by calling his Diamond Bar location at 909-860-9222 or the West Garden Grove location at 714-898-8757.
About the Doctor
Dr. Jin Y. Kim is a periodontist dedicated to providing personalized dental care in Diamond Bar and Garden Grove, CA. Dr. Kim attended the University of Sydney Faculty of Dentistry before furthering his education with an advanced degree in pathology from the Medical School of the same University. Dr. Kim completed a periodontics and implant surgery residency at UCLA School of Dentistry. A uniquely dual board-certified specialist, Dr. Kim was board-certified by the American Board of Periodontology and the American Board of Oral Implantology/Implant Dentistry. The International Congress of Oral Implantologists and the American Academy of Implant Dentistry both gave him the title of Fellow. He was also inducted to be a Fellow of the prestigious American College of Dentists. Dr. Kim enjoys lecturing at UCLA School of Dentistry as well as national and international academic and clinical associations and universities including the International Association of Dental Research, American Academy of Periodontology and Academy of Osseointegration. To learn more about Dr. Jin Kim and the services he offers, visit his website at http://www.drjinkim.com or call (909) 860-9222 for the Diamond Bar location or (714) 898-8757 for the West Garden Grove location to schedule an appointment.