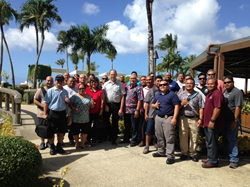 Not everyone in the weights and measures profession gets a chance to make such a positive impact on so many people.
Lincoln, Nebraska (PRWEB) February 01, 2017
The National Conference on Weights and Measures (NCWM) Associate Membership Committee recently sponsored a training event in Saipan that could save consumers in that region millions of dollars each year when purchasing packaged goods.
Twenty-five weights and measures inspectors from Saipan Tinian, Rota, Guam, Palau, Chuuk and the Marshall Islands gathered in Saipan for training on how to perform inspections using the procedures in NIST Handbook 133, Checking the Net Contents of Packaged Goods as adopted by the NCWM. NCWM is a national association dedicated to developing and promoting uniform United States weights and measures standards for commerce.
NCWM's associate members each contribute $15 as part of their membership dues to an Associate Membership Fund. The Associate Membership Committee controls how the fund is used to support the mission of NCWM, including sponsorship of training events like the one in Saipan, but typically just within the United States. The Northern Mariana Islands (CNMI) requested funding assistance to bring an expert trainer to Saipan for the five-day course.
CNMI Governor Ralph Torres reported an estimated $3 million in annual losses for consumers due to inaccurate package contents that are imported to the region through the Saipan seaport. He acknowledged that this training class was the first opportunity to train stakeholders in that region of the world on U.S. standards, test procedures and proper equipment to verify net quantity of packaged goods.
Brett Gurney, Weights and Measures Program Manager at the Utah Department of Agriculture provided the training. Mr. Gurney was able to take his expertise and share it with an entire region that is developing package inspections for the first time in their history. "I was honored and excited to be part of something that may have a huge impact for the Micronesian region of the world," explained Gurney. "Not everyone in the weights and measures profession gets a chance to make such a positive impact on so many people. I was met by a motivated group of people who were excited to learn." Mr. Gurney saw the opportunity as a huge success and very important to the region where most consumer products are imported from other parts of the world.
Mr. Gurney expressed appreciation to NCWM, the Associate Membership Committee, the Utah Department of Agriculture and the National Institute of Standards and Technology for working together to make the training possible. He also expressed great appreciation for his host in Saipan and the very eager and attentive participants from the region.
The National Conference on Weights and Measures is a professional nonprofit association of state and local weights and measures officials, federal agencies, manufacturers, retailers and consumers. NCWM has developed national weights and measures standards since 1905. The organization brings the right interests together to keep pace with innovative advancements in the marketplace.