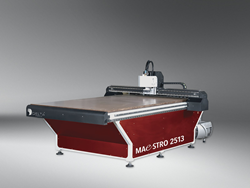 "We are thrilled to introduce this highest quality offering and as word spreads of the Maestro, we expect sign shops across the country to embrace this technology."
Boulder, Colorado (PRWEB) January 27, 2017
Today AdamsTech announced their latest offering in sign making equipment, the Maestro router. With customers regularly asking for referrals on a high-quality sign making router and with a long history of responding to customer requests, they are proud to start the year off with the announcement of their latest solution.
Working together with AdamsTech, Delta designed this router specifically for the needs of sign makers. The automatic 12 position tool changer enables you to perform multiple operations or switch to a different material in a matter of seconds. The machine uses the most advanced technology available, including: A helicoidal rack-pinion system on X and Y axes and a ball screw system on the Z axes for maximum routing precision. The state-of-the art Graphic User Interface on the Maestro incorporates new features that make production easier and faster than ever before. Options like a Cold Air Gun for aluminum milling, or tangential cutting head for knife cutting are just a few of the features available that gives this router its competitive edge. With several routing area sizes available, the Maestro can be scaled to fit almost any work space.
Mike Adams, Owner and CEO of AdamsTech said, "We've spent a lot of time working with Delta to optimize this equipment specifically for our signmaking customers. While there are other routers available, we have found that our customers require accuracy and features that many other routers do not deliver. Like our ChannelBender series of equipment, these machines are manufactured to a higher level of quality not available from our competitors. With proven success in the diemaking market, Delta has applied its incredible engineering capability to the needs of our sign making customers. We are thrilled to introduce this highest quality offering and as word spreads of the Maestro, we expect sign shops across the country to embrace this technology."
Visit http://www.channelbender.com for more information, call 303-798-7110, or come visit our booth at this years ISA International Sign Expo in Las Vegas. For details visit: http://www.channelbender.com/news/
About AdamsTech:
AdamsTech is the exclusive distributor for the SDS ChannelBender series of channel letter benders, along with other equipment and supplies for the fabrication of all types of letters and logos, including Trimless channel letters. The company introduced the first version of their patented technology in 1996, and continues to work with the signage and design community to identify and develop new and innovative solutions to the needs of sign makers.