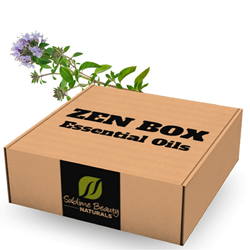 Essential Oils Improve Wellness, Health and Joy on a Daily Basis. ZEN BOX Sends 3 Essential Oils Every Other Month PLUS Education on How to Use Them; Membership is Loaded with Benefits.
St. Petersburg, FL (PRWEB) January 27, 2017
It's now time to sign up for ZEN BOX 2017, with the deadline at midnight February 1st to be on the books for the February 5th mailing.
Sign up here, and either choose bi-monthly or annual billing (28% off discount applies for annual).
New ZEN BOX members will get a free Zen IMMUNE BOOST Diffuser Blend bonus at signup.
ZEN BOX highlights and benefits include:

3 Essential Oils Every Other Month, Delivered to Your Door
Bonuses Twice Yearly (a 4th item in the box)
A Standing Secret 25% Off Anything at Sublime Naturals Anytime
Deeper Secret 35%-40% Off Discount Promos on the "No Box" Month
Education Emailed on HOW to Use Your Essential Oils & What They Do
Free Shipping in the US
VIP ZEN POINTS with every purchase and recharge of your box, for discounts
A New PODCAST Starting February 2017
Control of Your Account to Pause, Cancel, Update a Card or Address
Sign up now here. Improve wellness, health, joy and take control of solving basic problems with essential oils.
For a longer explanation, see the video above by Sublime Naturals founder Kathy Heshelow.
ABOUT SUBLIME NATURALS: The motto of the company is Make Healthy Choices, Respect Your Body, Love Nature. The company offers organic and natural products for wellness and beauty including essential oils, Sesame oil for Oil Pulling, and more. The founder, Kathy Heshelow, is author of "Essential Oils Have Super Powers".