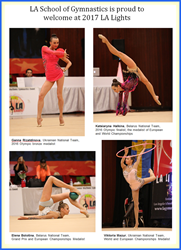 Los Angeles, CA (PRWEB) January 27, 2017
The Los Angeles School of Gymnastics is excited to present the annual LA Lights Tournament of Champions 2017 event!
This is one of the most important rhythmic gymnastic competitions in the world. This celebration of athletic prowess and ambitious challenges attracts some of the best female athletes from across the United States and the entire world including the All-Around Olympic Champion Ganna Rizaditnova along with National Team Members from around the globe.
Led by Alla Svirsky, the Executive Director of the Los Angeles School of Gymnastics, and championed by Tanya Berenson, General Manager, the event will highlight world-class gymnasts. "It is official, we have raised the bar this year and the Annual LA Lights Tournament of Champions has become one of the biggest rhythmic gymnastics event in the world." states Berenson "With the last minute additions of the All-Around Olympic Champion, Ganna Rizaditnova from Ukraine and arch rival Katsiaryna Halkina from Belarus this Tournament will be a real nail biter. It's really now an all-out re-match of the 2016 Summer Olympics and is anyone's game for the All-Around Gold Title."
Since 1975, the Los Angeles School of Gymnastics has been a premier source for quality gymnastic instruction, rhythmic gymnastics, boys and girls gymnastics, All-star cheerleading, Parkour, Slacklining and off ice skating in Los Angeles, make this school one of the most innovative programs and well-rounded curriculums that provide happy and healthy children and adults. The Tournament will take place over the weekend of January 27-29, 2017 at the Veterans Memorial Auditorium and supported by the Culver City Mayor and its respective City Council members for its unique competition and international drive to both the City and the caliber of competition you don't want to miss! During this impressive competition, gymnasts will challenge themselves at ten different levels with various props like ropes, hoops, ribbons, clubs, ball and floor event.
Teams scheduled to compete in the LA Lights Tournament of Rhythmic Gymnastics Champions include USA National Team Members, Sweden National Team, Ukraine National Team, Russia National Team, Belarus National Team, Italy National Team, Israel Maccabi Team, Puerto Rico National Team, Canada National Team, Chinese National Team, Turkey National Federation, Armenia National Team, Cyprus, Mexico and Australia National Team to name a few.
For more information or to schedule an interview with any of the world class athletes, contact Tanya Berenson, please email tanya(at)lagymnastics(dot)com for a prompt response.