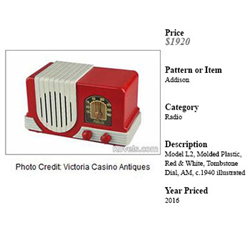 Cleveland, Ohio (PRWEB) January 27, 2017
Kovels.com has just added more than 32,000 prices and 2,500 new photos of priced antiques to its free online price guide. All prices are from actual shops, shows, flea markets, auctions, online sales, dealers and other sources. Prices are double-checked for accuracy by Kovels' experts using their own AccuValue™ system and they range from $2 to $402,000.
Like their book, Kovels' Antiques & Collectibles Price Guide, the Kovels.com online price guide is organized into more than 700 categories that represent the most popular collecting interests—advertising, art pottery, Depression glass, furniture, jewelry, sports memorabilia, toys and much more. Category descriptions include information on makers, history, age and marks. This useful information helps accurately price collectibles, identify market trends and serves as a guide for buying, selling, appraising or settling an inheritance. Two generations of Kovels edit the content, so Kovels' online price guide lists pieces made from the 1700s to as recently as 2000.
You can find almost anything among the Kovels' added prices and pictures. Rare "treasures" include a five-gallon stoneware churn with cobalt blue decoration picturing a Civil War soldier that auctioned for $402,500, an Edison's stock ticker tape machine that sold for $2,460, and a miniature flask shaped like Teddy Roosevelt wearing a dress that ridiculed the president for supporting suffragettes that went for $470. A 24- by 14-foot mahogany saloon back bar and front bar sold for $79,800. There was even a Quack medical vibrating chair from a Michigan sanatorium for $4,648 and a bed-sized throw cover made of skunk pelts and brown cloth for $2,100. Smaller quirky items include a 1915 World Series Game 1 ticket that brought over $5,000, a metal "Brownie Chocolate Flavored Drink" bottle cap for $2 and a one-inch Orphan Annie pin for the Radio Orphan Annie Secret Service Society, $10.
The Kovels.com online price guide is a searchable resource, useful to both new and experienced collectors. It's concise, reliable information that can identify market trends and serve as a guide for buying, selling, appraising, or settling an inheritance.
Terry Kovel is America's foremost authority on antiques and collectibles. She is the well-known columnist and author of more than 100 books on antiques and collecting. With her daughter, Kim Kovel, she co-authors the best-selling annual Kovels' Antiques and Collectibles Price Guide. The 2017 edition is presently available at Kovelsonlinestore.com and local bookstores. They will discuss antiques and collectibles topics with accredited media. Photographs are available. Contact pr(at)kovels(dot)com.
About Kovels.com
Kovels.com, created by Terry Kovel and Kim Kovel, provides collectors and researchers with up-to-date and accurate information on antiques and collectibles. The company was founded in 1953 by Terry Kovel and her late husband, Ralph. Since then, the Kovels have written some of America's most popular books and articles about antiques, including the best-selling Kovels' Antiques and Collectibles Price Guide, now in its 49th edition. The website, Kovels.com, online since 1998, offers more than a million free prices, and includes a free weekly email, "Kovels Komments." It gives readers a bird's-eye view of the market through the latest news, auction reports, a Marks Dictionary, readers' questions and answers and much more.
Contact Information:
Liz Lillis
216.752.2252
Pr(at)kovels(dot)com