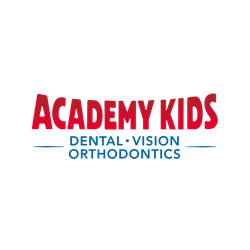 Colorado Springs, CO (PRWEB) January 30, 2017
Academy Kids Dental, Vision and Orthodontics, is once again supporting the American Dental Association Foundation's annual National Give Kids A Smile® program by providing free dental care for local area children in need.
The Give Kids A Smile program is a cornerstone of the ADA's National Children's Dental Health Month celebration which is aimed at:

Expanding needed dental services to underserved children
Shining a spotlight on the negative consequences of untreated dental disease in the United States.
Academy Kids is Southern Colorado's premier provider of quality dental, vision and orthodontic care to children ages six months through 20 years. In support of the Give Kids A Smile program, they will be offering free dental care to children in need, including; dental exams, cleanings, fluoride treatments, fillings, x-rays, sealants and extractions. Appointments can be scheduled at the Academy Kids Citadel Crossing location, 883 North Academy Boulevard in Colorado Springs, from February 13th through February 17th.
Parents wishing participate should call 719-422-0071 to schedule. Space is limited and appointments will be scheduled on a first-come, first-served basis. Qualifying patients must be under 21 and not currently covered by Medicaid or private insurance.
Less than 50 percent of all U.S. children receive annual dental check-ups, and the problem is far greater for lower income and minority children who suffer disproportionate rates of tooth decay. According to the Guide to Children's Dental Care in Medicaid, 80 percent of cavities in permanent teeth impact just 25 percent of U.S. children, and tooth decay has been rated the single most common chronic childhood disease.
All Academy Kids Dental, Vision and Orthodontics locations will be celebrating Dental Health Month throughout February. Children will be encouraged to take the Smile Pledge which includes a promise to:

Brush 2 x 2 (two minutes, two times a day)
Get dental check-ups every six months
Share a smile with someone special
See what parents have to say about bringing their children to Academy Kids.
About Academy Kids Dental, Vision and Orthodontics
Academy Kids Dental, Vision and Orthodontics is 100% focused on delivering quality care to children in underserved communities. With five offices throughout Colorado Springs and Pueblo, Academy Kids Dental, Vision and Orthodontics has been helping children ages six months through 20 years gain access to the care they need since 2006. Their kid-friendly offices and caring staff take the fear out of dental visits, making it fun, easy and affordable for children to thrive.
To learn more visit mydentalvisioncare.com/givesmiles, or call 719/323-2366.
###