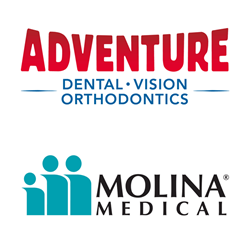 Baltimore, MD (PRWEB) February 28, 2017
Albuquerque, NM, February 27, 2017 – Adventure Dental, Vision & Orthodontics and Molina Healthcare are co-hosting a Wellness Day on March 4, 2017 from 10:00 a.m. to 3:00 p.m. at Adventure's Albuquerque location; 5000 Menaul Blvd. on the southwest corner of San Mateo and Menaul Blvds.
The goal of the Wellness Day is to raise awareness about the benefits of preventative care and to expand care access to children and adults not currently taking advantage of services they are qualified to receive.
Wellness Day attendees will enjoy a variety of fun and educational activities while taking advantage of a long list of needed wellness services, including:

Children's dental cleanings, exams and operative services
Children's vision exams and glasses fittings
Blood pressure screening
Glucose screening
Diabetic retinal eye exams
On-site Mammograms
Over 65 percent of New Mexico's children are currently enrolled in Medicaid. Because of the importance of regular wellness care for childhood development, Medicaid covers pediatric wellness exams plus twice annual dental check-ups, all medically required dental treatment, annual eye exams and glasses for children needing a vision correction.
Despite this coverage, the majority of children enrolled in Medicaid are not receiving the care for which they are eligible. In studies by the Department of Health and Human Services and George Washington University, less than half of Medicaid enrolled children ages 1-20 received preventative dental or vision care in a 12 month period:
55 percent received pediatric medical screenings
42 percent received preventative dental services
40 percent receive vision screenings
Medicaid-enrolled adults are also falling short in terms of preventative care costing the U.S. healthcare system billions each year. Wellness fairs are a proven way to expand care access and educate the public on the importance of regular health screening. Adventure and Molina Healthcare are committed to driving community wellness to Albuquerque families.
About Adventure Dental, Vision & Orthodontics
Adventure Dental, Vision & Orthodontics is 100% focused on delivering quality care to children in underserved communities. With offices nationwide, Adventure Dental, Vision and Orthodontics has been helping children ages six months through 20 years gain access to the care they need since 2006. Their kid-friendly offices and caring staff take the fear out of dental visits, making it fun, easy and affordable for children to thrive.
About Molina Healthcare of New Mexico
Since 1998, Molina Healthcare of New Mexico has been providing government-funded care for low-income individuals. Our mission is to provide quality health care to people receiving government assistance As of December 2016, the company serves approximately 254,000 members through Medicaid, Medicare and Health Insurance Marketplace programs across New Mexico. Molina's state provider network includes 2,276 primary care physicians, 9,200 specialists and 72 hospitals. Additionally, Molina owns and operates a primary care clinic in Albuquerque. Visit molinahealthcare.com and connect with us on Facebook, Twitter, Instagram and YouTube.
To learn more visit: mydentalvisioncare.com/ABQwellnessday
Contacts:
Adventure Dental, Vision & Orthodontics
Janelle Shumaker
719/323-2366
janelle(at)herodvo(dot)com
Molina Healthcare
Leidy Arevalo
(562) 528-5521
Email leidy.arevalo(at)molinahealthcare(dot)com
###