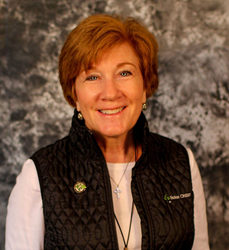 I'm looking forward to supporting our work to represent the diverse interests of Virginia agriculture
(PRWEB) February 01, 2017
Farm Credit of the Virginias today announced that senior leader Bette Brand has been elected Chairman of the Board of the Virginia Agribusiness Council (VAC).
Brand has worked for Farm Credit for 35 years, and currently serves as Chief External Affairs Officer. Her role brings her to every corner of the organization's territory, working with farmers, foresters and agribusinesses to advocate for agriculture and work to share its story with consumers, community leaders and elected officials at both state and national level.
She has also been a member of the VAC since the mid-1980s, serving on the 30+ member board continuously through present day. Brand has one previous term as Chairman with VAC in the late 1990s. The VAC, formed in 1978, represents 40,000 Virginia farmers, foresters, ag suppliers and agribusinesses throughout the state, working to promote favorable policies with the Virginia General Assembly and with the federal Congressional delegation. Agriculture is a $70 billion industry in Virginia.
"Bette has earned a great deal of respect from other board members and throughout agriculture in Virginia," says Katie Frazier, VAC President. "She's been committed to furthering the industries we represent for decades, both on behalf of Farm Credit and VAC, and we feel very fortunate to have her experience and insight in this leadership role."
Brand will serve a 1-year term as VAC Chairman, where she hopes to encourage Virginia's ag industry to educate others about the industry's processes and stewardship, and to continue to support VAC's policy agenda.
"VAC has had incredible leadership since its inception, and currently has a strong board of directors with experience in many facets of the industry," said Brand. "I'm looking forward to supporting our work to represent the diverse interests of Virginia agriculture and help lawmakers enact fair, reasonable and scientifically based policies that will help our agriculture industry continue to be successful."
Brand was raised on a small family livestock farm in Bedford County, which her family still operates.
Farm Credit of the Virginias provides over $1.8 billion dollars in financing to more than 10,000 farmers, agribusinesses and rural homeowners throughout Virginia, West Virginia and western Maryland. Farm Credit is a cooperative capitalized largely through investments made by farmers, ranchers and the rural homeowners and businesses that borrow from them. Farm Credit helps maintain and improve the quality of life in rural America and on the farm through its constant commitment to competitive lending, expert financial services and for facilitating and sharing knowledge and resources through the Farm Credit Knowledge Center. For more information, visit http://www.FarmCreditKnowledgeCenter.com or http://www.FarmCreditofVirginias.com.
About The Virginia Agribusiness Council
The Virginia Agribusiness Council is a non-profit organization committed to representing the interests of the agriculture and forestry industries in the Commonwealth through effective governmental relations and initiatives. Its membership includes farmers, foresters, and other agricultural producers; industry suppliers; marketing and processors; and commodity and other industry associations. It is headquartered in Richmond. For more information, please visit http://www.va-agribusiness.org