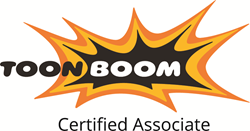 Salt Lake City, Utah (PRWEB) January 31, 2017
Certiport (http://www.certiport.com), a Pearson VUE business, the leading test delivery solution provider for the global workforce and academic markets, today launches the new Toon Boom Certified Associate (TCA) Certification Program. Certiport will immediately offer four TCA-level exams: Storyboard Pro, Harmony Essentials, Harmony Advanced and Harmony Premium.
TCA certification is a new way to validate and communicate superior animation skills to prospective employers and academic institutions. Storyboard Pro is a storyboarding software that combines drawing and animation tools with camera controls and Harmony is Toon Boom's powerful animation software. Certiport and Toon Boom worked together to develop the TCA certification exams with key objectives designed to measure the fundamental functions of the software.
"Toon Boom software is the industry-standard for storyboarding and animation creation," said Francois Lalonde, vice president of sales, Toon Boom. "All top animation studios use Toon Boom extensively and individuals looking to build a career in this field can prove their expertise with this new certification program."
TCA certification will also be supported by electronic badging from Acclaim, enabling learners to easily share and prove their skills in the digital world. TCA certification will be administered through Certiport's network of more than 14,000 Certiport Authorized Testing Centers worldwide.
"Certiport's goal is to help every individual earn industry-recognized certification," said Aaron Osmond, general manager, Certiport, a Pearson VUE business. "Adding diverse offerings such as the new Toon Boom Certified Associate exams helps us to reach more individuals in varied fields. We are excited to help students master and validate their Toon Boom skills to build their resumes and give them a distinct advantage in the animation community."
Register here for a free TCA digital information kit including a program video, datasheets and poster: http://learn.certiport.com/ToonBoom.
About Toon Boom Animation
Toon Boom Animation Inc.'s award-winning software is the global standard for 2D animation and storyboarding. Toon Boom solutions provide everyone from enthusiasts to professionals with the artistic freedom to create in any style and efficiently publish anywhere. Customers include Bento Box Entertainment, Disney Television Animation, DreamWorks Animation, Fox Television Animation, Mercury Filmworks, Nelvana and Toon City. For more information, visit: toonboom.com.
About Certiport
Certiport, a Pearson VUE business, is the leading provider of certification exam development, delivery and program management services delivered through an expansive network of over 14,000 Certiport Authorized Testing Centers worldwide. Certiport manages a sophisticated portfolio of leading certification programs including: the official Microsoft Office Specialist certification program, the Microsoft Technology Associate certification program, the Microsoft Certified Educator program, the Adobe® Certified Associate certification program, the Autodesk Certified User and Autodesk Certified Professional certification programs, the Intuit QuickBooks Certified User certification program, the Toon Boom Certified Associate certification program, the IC3 Digital Literacy certification and the Certiport Business Fundamentals certification program. Certiport reliably delivers over three million tests each year throughout the secondary, post-secondary, workforce, and corporate technology markets in 148 countries and 26 languages worldwide. For more information, please visit http://www.certiport.com or follow Certiport on Twitter at http://www.twitter.com/certiport.
"Certiport" and "IC3" are registered trademarks of NCS Pearson, Inc. in the United States and other countries. The names of actual companies and products mentioned herein may be the trademarks of their respective owners.