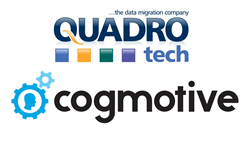 Zug, Switzerland (PRWEB) January 28, 2017
eDiscovery made easier
Leveraging industry-leading technology from PST FlightDeck, the new file discovery tool is able to gather PST files from a user, or set of users, that need to be retained and reviewed for legal discovery cases. The tool can gather and analyse files based on a number of variables which could indicate ownership including: a file's current or past use, attachments, creation information, and details about the most common sender or receiver.
The legal sector need to deal with eDiscovery cases on a constant basis, but the process of gathering the necessary files typically requires IT involvement and end user interaction, as workstations need to be accessed, and files need to be copied from local machines. If you're dealing with a number of large PST files, this can be a very tedious, manual process. Thomas Madsen, Senior VP Delivery at QUADROtech explains 'the new file discovery tool will make it easier for legal teams to select users or files in scope, collect necessary items, and view cases or file status. All of this can be achieved without the need to involve IT - saving time and resources.'
Identify security threats in Office 365, before they become incidents
QUADROtech will be exhibiting alongside Cogmotive, a market-leading provider of enterprise level reporting and analytics applications for Office 365. Cogmotive will be demonstrating their new analytics module for Office 365, 'Discover & Audit'. The solution provides a full, uninterrupted audit log of all Office 365 events, including every file modified, every login attempt, every password change, every mailbox accessed in Office 365. It enables you to investigate anomalous events, monitor compliance and improve DLP strategies. Each of these actions are crucially important in the legal sector, an industry entrusted with the protection of sensitive, valuable information.
Be the first to see these new products in action. QUADROtech and Cogmotive will be exhibiting at LegalTech from Jan 31st – Feb 2nd at Booth 1418.
-End-
QUADROtech and Cogmotive
QUADROtech is a hybrid ISV/MSP that helps customers to optimize their operations and empower employee collaboration and productivity by bringing ALL email data (live mail, email archives, PST files, and public folders) home to Microsoft Office 365 and Azure. QUADROtech is a trademark of QUADROtech Solutions AG. All other trademarks are the property of their respective owners.
Cogmotive (part of the QUADROtech group), is the market-leading provider of Office 365 reporting, analytics and auditing tools. Offering a suite of over 100 reports covering all major Office 365 services, the Cogmotive Reports suite helps customers gain the business insight to control their Office 365 environment on a global scale.
By leveraging industry-leading technology from both QUADROtech and Cogmotive, organisations are able to achieve a fast, compliant Office 365 migration, that delivers visible, measurable end-to-end success, as well as ongoing insight using powerful, detailed reporting and analytics.