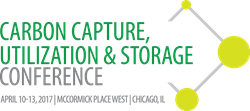 Following the success of the 2016 event, we are eager to join the ELECTRIC POWER Conference + Exhibition that will provide valuable relationship-building opportunities to our CCUS Conference attendees
Rockville, MD (PRWEB) January 27, 2017
Access Intelligence is proud to announce the co-location of the Carbon Capture, Utilization & Storage Conference with the ELECTRIC POWER Conference + Exhibition April 10-13 in Chicago, IL. This partnership allows for over 12 hours of networking opportunities with over 2,800 ELECTRIC POWER Conference attendees and exhibitors. ELECTRIC POWER provides a platform for power generation professionals to meet, network, and address the critical issues facing the power industry. This event brings together more power generators in one place than any other conference.
The ELECTRIC POWER Conference + Exhibition covers:

Power Plant Performance and Profitability
Environmental Compliance
Technology Advancements and Solutions
Power Plant Resiliency
Combined Heat and Power
Workforce Development
The topics covered during ELECTRIC POWER goes hand-in-hand with advancing CCUS technology. Carbon capture and storage (CCS) technologies have the potential to secure up to 90% of CO2 emissions, however this technology is just reaching maturity. The CCUS Conference brings together carbon capture and GHG reduction technology decision-makers, scientists, and government officials to network, get high-level strategic updates, hear case studies on emerging technologies and connect on research in the industry to advance this important technology.
Benefits include:

Access to more than 250 CCS/CCUS and GHG reduction technology experts from over 18 different countries
In-depth information on areas such as storage, transportation, usage, and policy as well as high-level, industry-wide updates from top government and industry leaders
Participation in more than 100 technical session presentations and posters that offer the in-depth updates on existing projects, efforts, experiments and case studies both in the U.S. and abroad
The goal of this program is to raise awareness of diverse global initiatives and projects, promote greater participation in international dialogue, and to discuss the commercialization of CCUS/CCS systems. As an independent source of education and news, GHG Monitor is able to offer, within an intimate setting, an atmosphere of open dialogue to learn, network, and discuss both opportunities and solutions to challenges facing the CCUS/CCS industry in today's climate.
"Following the success of the 2016 event, we are eager to join the ELECTRIC POWER Conference + Exhibition that will provide valuable relationship-building opportunities to our CCUS Conference attendees." says Kristy Keller, Brand Director, ExchangeMonitor Forums. "It's the deep commitment of the CCUS Conference team and advisory committee members to meet the needs of the industry that has made this conference so vital: a place where policy merges with technology in a setting where industry and government can have important discussions to move CCUS/CCS forward," Keller said.
Registration is open for the 2017 CCUS Conference and the advance rate expires February 10, 2017. To learn more about the program, sponsorship opportunities, and more, please visit http://www.ccusconference.com.
About ExchangeMonitor, a division of Access Intelligence, LLC
ExchangeMonitor Publications & Forums, founded by the late Edward Helminski, was acquired by Access Intelligence, LLC in March 2015. ExchangeMonitor publishes professional newsletters and creates, manages and sponsors forums, colloquiums and workshops to facilitate an exchange of views and information among government officials, private industry executives, non-governmental organizations and other entities on critical national and international programs and policies.
About Access Intelligence, LLC
Access Intelligence delivers trusted, timely and deep information that empowers our customers and advances their business. Access Intelligence is a leading worldwide information and marketing company that provides unparalleled business intelligence and integrated marketing solutions in nearly a dozen global market sectors. With a customer-centric culture dedicated to editorial excellence and marketing integrity, Access Intelligence serves business professionals worldwide with a portfolio of products, including events, e-letters, data and digital products, e-learning, magazines, and e-media solutions. We deliver insight and intelligence when, how and where our customers want it in major market areas.