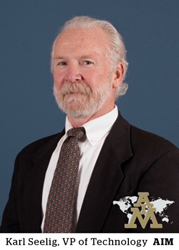 Cranston, RI USA (PRWEB) January 30, 2017
AIM Solder, a leading global manufacturer of solder assembly materials for the electronics industry, is pleased to announce that Karl Seelig, V.P. of Technology, will present at the SMTA Pan Pacific Microelectronics Symposium, scheduled to take place February 6th – 9th, 2017 at the Sheraton Poipu Kauai Resort in Kauai, Hawaii.
Seelig's presentation, "Weak Organic Acids – Detection and Reliability Assessment," will take place on February 8th, 2017 from 1:45 to 2:15 PM. This presentation explores the risks associated with weak organic acids (WOA), common component of no clean liquid fluxes and source of chemical commination that can cause electrical and corrosive failures on circuit assemblies. In this study, the accuracy of common residue extraction methods and a comparison of electrical and soldering performance of common WOA is performed to illustrate the challenges associated with flux residue assessment as it relates to reliability.
With over 30 years of industry experience, Karl Seelig has written and presented numerous technical papers on topics including lead-free electronics assembly, no-clean flux technology, assembly & process optimization, inspection, and metallurgical studies. Mr. Seelig serves as the Chairman of the IPC Solder Products Value Council and has been involved in the development of material specifications under IPC. He has also received numerous patents in soldering technology, including four lead-free solder alloys.
About AIM
Headquartered in Montreal, Canada, AIM Solder is a leading global manufacturer of assembly materials for the electronics industry with manufacturing, distribution and support facilities located throughout the world. AIM produces advanced solder products such as solder paste, liquid flux, cored wire, bar solder, epoxies, lead-free and halogen-free solder products, preforms, and specialty alloys such as indium and gold for a broad range of industries. A recipient of many prestigious SMT industry awards, AIM is strongly committed to innovative research and development of product and process improvement as well as providing customers with superior technical support, service and training. For more information about AIM, visit http://www.aimsolder.com.
Upcoming Events:
February 14-16, 2017 – IPC APEX Expo 2017 – San Diego, CA
February 28 – March 2, 2017 – Strategies in Light & the LED Show – Anaheim, CA