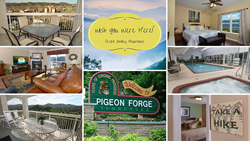 Vacation Better with our Pigeon Forge Winter Blast Special!
Pigeon Forge, Tennessee (PRWEB) January 29, 2017
This is a great time of year to visit Pigeon Forge and avoid the hustle and bustle of summer traffic and long lines at area restaurants and attractions. The Smoky Mountain Winterfest celebration is still going strong through February and it is truly a beautiful event to attend. You can spend an entire evening driving through the close knit communities of Pigeon Forge, Sevierville and Gatlinburg, to see all of the beautiful Winterfest scenery.
With Resort Properties' Winter Deal, their vacation rentals are 50% off rack rate in their Downtown Pigeon Forge Condos. Their Resorts include: Whispering Pines Condos, Bear Crossing Condos and Cedar Lodge Condos.
Pigeon Forge is hosting a Bluegrass Celebration February 10 and 11 at the LeConte Center. This is a 2 day Smoky Mountain Strong-Bluegrass Extravaganza that will benefit those affected by the Gatlinburg Wildfires. Top Bluegrass artists will be performing and this is sure to be one of the best concerts the City will host in 2017.
Don't forget about all the great shopping in Pigeon Forge and Sevierville. This area is home to Tanger 5 Oaks: one of the busiest shopping hubs in the South East. Whether a mom on the go or someone looking for the latest trends, this mall fits everyone's personal style. So, pack light and take home all of these savings while staying with Resort Properties.
Make sure to make time to visit Ober Gatlinburg, to take advantage of the Winter weather. They offer ice skating, skiing, snow-tubing and a variety of family activities.
While the wildfires were devastating to the area residents, downtown Gatlinburg was untouched by this tragedy and this town needs visitors to keep coming back. Tourism is their bread and butter. And believe me, you could not pick a better "Home away from Home." Southern Hospitality oozes from everyone you come across, while visiting the Smokies and best part is, it is genuine.
Resort Properties is Pigeon Forge's Premiere Condo Destination which features 3 Pigeon Forge properties: Bear Crossing Condos, Cedar Lodge Condos and Whispering Pines Condos. All of the condos are fully furnished and designed to ensure you and your family have a great Smoky Mountain experience.
The added bonus at Resort Properties, is they TRULY love their guests and go above and beyond to exceed Guest Expectation. Resort Properties offers an Entertainment Reward Card which supplies their guests with Free Attraction Tickets & DVD Rentals, while staying with them in Pigeon Forge.
Resort Properties is celebrating 20 years in business this year and they want you to come experience "Your Best Vacation Ever," this February. For more information, please visit: condopigeonforge/winter-deals.com or call 800-429-4361 to talk with one of their Vacation Specialists.