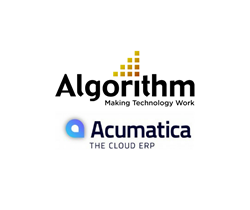 Dublin, OH (PRWEB) January 29, 2017
Algorithm is proud to announce their new, premier partnership with Acumatica ERP. Acumatica is a leading global provider of flexible, easily-deployed business management software for small to mid-sized companies. Their focus is on scalability and cost effectiveness.
The fully integrated business management suite encompasses financials, distribution, CRM, manufacturing, field service, contract and project accounting and much more.
"We are always focused on introducing top of the line manufacturing and distribution solutions to our clients," Algorithm owner, Mike Oswalt, said. "Acumatica has been on a blistering growth curve and brings features previously only available to systems used by large companies. We believe this offers our customers amazing functional capabilities while still retaining its simplicity. And our customers are telling us now the time is right to adopt a cloud strategy."
Acumatica is unique in that it can be deployed in a public or private cloud as well as on premise. It has a 100% browser based interface and runs on any device, anywhere, anytime. For customers with unique requirements, Acumatica has a robust development platform Cloud xRP. This technology will allow Algorithm to extend the product to meet those business needs in days, not weeks.
"Acumatica is 100% a partner channeled business," said Dawn Jaeger, Acumatica Director of Partner Recruiting. "We understand the importance of securing a strong network worldwide, and are excited to add Algorithm to our partner community. They are proven implementation leaders and will have significant success reselling and implementing our Cloud ERP product."
Acumatica has gained great notoriety recently, as it was named a leader in the ERP Technology Value Matrix by Nucleus Research. Algorithm will be charged with the responsibilities of evaluation, implementation, training and ongoing support of Acumatica ERP.
"This move was predicated first on acquiring a product that will allow us to meet the needs of our customers now and into the future as they grow and evolve. But secondly we looked at the go-to-market strategy of the various product vendors." Oswalt said. "Acumatica's partner only strategy sealed it for us. We wanted a partner that invested in their channel and did not compete with it. This is best in the long run for the customer and the entire eco-system."
"Acumatica's enablement and certification programs will empower our team to reach a high level of expertise, rapidly", said Algorithm's VP of Professional Services Mimi Bertram. "This will allow us to deliver services and value to our customers immediately. Their business model should be the blueprint for the entire industry."
For twenty-three years, Dublin, OH based Algorithm has provided long-term solutions, services, and support to hundreds of small-to-medium sized business nationwide. The company prides themselves in helping customers make informed business solution and software recommendations in order to streamline operations, improve company visibility and support growth for years to come.