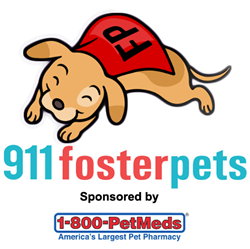 We know that our customers are the kind of pet lovers that step up when pets are in need and being a foster can help.
Delray Beach, Florida (PRWEB) January 30, 2017
Online pet pharmacy 1-800-PetMeds® is proud to be a sponsor of 911fosterpets.com, the new "matchmaking" website that connects pets in need of temporary placement with potential foster pet parents.
An offshoot of the wildly successful pet adoption website Petfinder.com, 911fosterpets aims to save the lives of shelter and rescue pets that are at risk of being put down. Creator Betsy Saul, along with co-founders Eric and Traci Theis, is working hard to spread awareness of pet fostering opportunities to those who are willing and able to help.
Alex Irvin, Director of Marketing at 1-800-PetMeds® explains, "We see/hear every day how much our customers love their pets (on social, website feedback, on the phones) and how many of them have met each other at a shelter or rescue. Some pets never make it that far. We know that our customers are the kind of pet lovers that step up when pets are in need and being a foster can help. That's why we wanted to let them know about 911fosterpets and how they can help."
Rescue groups and shelters all over the country are now able to list pets that are in urgent need of placement. Too often, healthy pets, including puppies and kittens, are euthanized simply because there is no room for them in a shelter.
Many people are not aware that they can provide temporary care and housing to needy pets and help solve the problem of shelter overcrowding. 911fosterpets.com makes it easy for willing foster parents to find local pets in need and care for them until permanent homes can be found.
Rescued pets who are shown warmth and caring at a critical point in development or through a time of transition from one home to another are often easier to place in permanent homes. Foster parents help build confidence and trust in vulnerable pets, getting them ready to assimilate into a new family or environment.
When you become a foster pet parent, you can feel good about bridging the gap between homelessness and a forever home. Most shelters and rescues give you food and supplies to keep costs to a minimum. You just provide the shelter, care, and love to get pets through this difficult time. Visit http://www.911fosterpets.com to find out how you can help save a pet's life today.
About 1-800-PetMeds®
Founded in 1996, 1-800-PetMeds® is America's Largest Pet Pharmacy and Vet-VIPPS accredited, delivering prescription and non-prescription medications, and pet supplies for less, direct to the consumer through its 1-800-PetMeds® toll free number and on the Internet through its website.