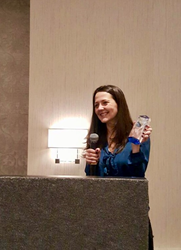 This Award confirms Gorilla as the premier global supplier in this very specialist field; being the de-facto Cloud sherpa for IT vendors and the partner community.
San Jose, CA (PRWEB) January 30, 2017
During the Final Stages of the Cloud Visionaries Conference this week, Gorilla Corporation was confirmed as Award Winner in the Category of Channel Development Supplier Sponsor for Cloud.
Berta Armenteras Andreu, VP Global Operations, received the Award for Gorilla.
Gorilla has been pioneering the field of cloud transformation in the channel. Supporting major IT vendors in terms of empowering their traditional channel partners to shift business model safely and effectively to cloud has been an important part of the Gorilla outlook.
Furthermore Gorilla's unique ability to source, recruit and onboard "Born-in-the-Cloud" partners has been fully recognized by the Cloud community through this very prestigious award.
Carlo Tortora Brayda di Belvedere, Gorilla Corporation CEO stated: "The cloud revolution in the channel has long since started, but few technology vendors are truly comfortable with the way partners are taking on the subscription model, and they are increasingly relying on Gorilla Corporation to support the channel development process on a global basis. This Award confirms us as the premier global supplier in this very specialist field".