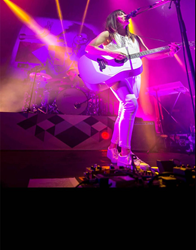 Fairfield, CT (PRWEB) January 27, 2017
StageOne and The Warehouse at Fairfield Theatre Company will have bustling crowds all month long as they welcome 16 concerts, four film screenings, and one art show to the FTC Campus. Ranging from Jim Messina (Buffalo Springfield, Kenny Loggins) to 90s pop star Aaron Carter, events and concerts cater to a diverse range of ages and interests.
Kicking off the first week of February is the fingerpicking David Bromberg Quintet Thurs. Feb 2 in The Warehouse. Local singer-songwriter Dylan Connor releases new music Sat. Feb. 4 on StageOne. The following week, FTC presents six events in five days with Aaron Carter Thurs. Feb. 9 on StageOne and The Weight Band, featuring former members of The Band and Levon Helm Band, Fri. Feb. 10 in The Warehouse. Just across the parking lot on StageOne, Pink Rock Presents British Rock as a benefit for PINK AID featuring Band Together.
The magnetic reggae hero Mystic Bowie celebrates his birthday Sat. Feb. 11 on StageOne, School of Rock brings the best of Mamaroneck, New Canaan, and Ridgefield Sun. Feb. 12 to Fairfield and the Oscar Nominated Short Film Festival Series kicks off with the Documentary category Mon. Feb. 13 in The Warehouse.
For artists and music lovers alike, electronic duo BoomBox brings an interactive and electronic blend of soulful rock and blues Wed. Feb. 15 to The Warehouse. Just before that energetic concert, a reception featuring art inspired by music will be presented in The Gallery at FTC. Curated by illustrator/designer and FTC Board Member Leslie-Cober Gentry, see displays of lyric-based art featuring 40 diverse songs including the music of Pink Floyd, The Beatles, Soundgarden, Beyoncé, Daft Punk, Miles Davis, and more.
The following evening, Thurs. Feb. 26, Scott Sharrard, best known as the guitarist in the Gregg Allman Band, teams up with Scott Metzger of Joe Russo's Almost Dead for a rip-roaring night of electric guitar and intricate jams. For those who celebrated the opening of The Warehouse in 2015, Rusted Root makes their triumphant return Fri. Feb 17. That same night, American bluesman Albert Cummings will be next door on StageOne. To close out the weekend Sat. Feb. 18, rough, gruff, and tough blues guitarist Popa Chubby returns to FTC following his big 2016 Warehouse performance with Dana Fuchs.
The Bankwell-sponsored Oscar Nominated Short Series continues Tue. Feb. 21 on StageOne with the animation category. The same night, next door in The Warehouse, KT Tunstall and Kelvin Jones perform as part of the BMW Driving Music Series. The Oscar Nominated Short Series finishes Wed. Feb. 22 in The Warehouse by showcasing the live action category.
The next night, Thurs. Feb 23, Jim Messina, best known from Buffalo Springfield and Loggins and Messina, makes his debut in The Warehouse. Singer-songwriter Stephen Kellogg also makes his debut Fri. Feb 24 in The Warehouse, and for those fans of up and coming indie music, River Whyless brings Americana Sat. Feb 25 to StageOne.
Last but not least, FTC's February entertainment comes to a close Sun. Feb. 26 with Radius Invitational 2 Jui-Jitsu Tournament in The Warehouse and the Planet Fuel Charitable Fund Environmental Film Series makes their first screening of "Chasing Ice" on StageOne.
Tickets and information for all shows are available at fairfieldtheatre.org.
About Fairfield Theatre Company:
Fairfield Theatre Company is a highly-acclaimed non-profit performing arts organization located in the heart of downtown Fairfield. FTC presents over 300 concerts and events each year featuring outstanding national talent at FTC's StageOne and at The Warehouse. FTC's venues are widely recognized as being the best places to see live performances in the region. FTC's mission is to connect and enrich the community through the transforming power of the arts. For more information, go to fairfieldtheatre.org.