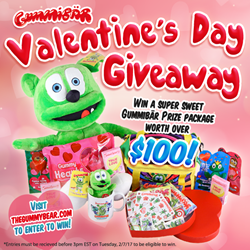 New York, NY (PRWEB) February 01, 2017
The First Annual Gummibär Valentine's Day Giveaway has been announced. One lucky random Gummibär fan will win a Gummibär prize package consisting of a Jumbo Gummibär Plush, a Yellow Gummibär Lunch Bag, Official Gummy Bear Show Mug, Singing Clip-On Gummibär Keychain, Gummibär Heart-Shaped Box filled with Gummibär CDs, stickers, buttons and tattoos, Various Valentine's Day candies and more. This prize is valued at over $100.
To be eligible to win the Valentine's Day Giveaway, Gummibär fans need to be sure to do two things:
First, they must be sure to sign up for the official Gummibär Email Newsletter before 3 pm EST on Tuesday, February 7th 2017, if they have not done so already. A subscription form for the newsletter can be found on the home page at http://www.thegummybear.com/newsletter
Second, fans must leave a comment sharing their favorite Valentine's Day candy to receive on the Valentine's Day Giveaway announcement page at http://www.thegummybear.com/2017/01/25/the-first-annual-gummibar-valentines-day-giveaway/ and be sure to use the same email they used when they signed up for the newsletter.
All Gummibär fans that fulfill both requirements by 3 pm EST on Tuesday, February 7, 2017 will be eligible to win. One lucky random winner will be selected within 24 hours of the end of the giveaway and notified via email within 48 hours of their selection.
About Gummibär:
The first Gummibär videos were posted in 2006 and since then the character has grown to be immensely popular around the world. Gummibär content has been viewed more than 8 billion times on YouTube, currently averaging more than 5 million views per day. The character's songs have been released in over 40 different countries and in over 27 different languages. Gummibär has received Sales Certification Awards in over 8 countries, including one for going 96 times Platinum on Universal Records in Greece. The musical success of Gummibär has also lead to extensive merchandising lines throughout the world.
About Gummybear International:
Gummybear International is engaged in the creation, development, and branding of animated entertainment properties, as well as musical content based on and produced for such properties. It markets and sells recorded musical and video products in various physical formats, such as compact discs and DVDs, and digital formats, such as downloads and ringtones, through a worldwide network of established distributors and licensees. The company's music publishing segment owns and acquires rights to musical compositions, markets these compositions, and receives royalties or fees for their use. It also is actively developing mobile and computer based games and exploiting merchandising rights for its brands in cooperation with a variety of licensing partners. GBI is working on a number of film and TV projects. The company is headquartered in New Jersey. For more information, visit the Gummybear International website at http://www.gummybearinternational.com/.