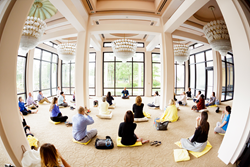 His speeches and mindfulness workshops help people tame their turbulent minds, improve focus, productivity and boost emotional intelligence.
(PRWEB) January 31, 2017
Pandit Dasa, who at one point lived as a millionaire in Los Angeles, decided to become a monk in New York City, living with minimal possessions. Now he spends his time helping fast-paced, high-stressed corporate professionals remain mindful and maintain their composure during high-pressure situations. His speeches and mindfulness workshops help people tame their turbulent minds, improve focus, productivity and boost emotional intelligence.
The first six months of his journey as a monk began in India and the remainder of the 15 years took place on the Lower East Side of New York City, helping busy New Yorkers manage stress, develop a work-life balance, and become more mindful. After leaving the monastery and graduating from the monastic order, about two years ago, he finds himself lecturing at the world's top corporations such as Google, Citi, JPMorgan Chase, The World Bank, Bank of America, Novartis, Intel and many others. As a Mindful Leadership Expert, he has even led mindfulness meditation workshops on Capitol Hill and the World Government Summit.
Going from millionaire to monk to a Mindfulness Expert wasn't an overnight journey. It began in 1992, after his family lost their multi-million dollar fortune to a fire that burnt down their jewelry manufacturing plant. They lost not only their business, but also their luxurious, hilltop home with a postcard view of downtown Los Angeles. In a desperate attempt to regain their lost wealth, Pandit and his family packed up their bags and went off to post-communist Bulgaria. Feeling alone and thoroughly uprooted, Pandit began seeking inspiration from the wisdom texts of India and started on his journey into meditation and mindfulness. After spending two challenging years in Bulgaria, they decided to relocate to New Jersey to start a business in New York City.
In September of 1999, Pandit went on a one-month meditation retreat at a monastery in Mumbai, India. At this point, he had no intention of becoming a monk but the experience of waking up at 4:00AM for 2-hours of meditation and the camaraderie of 40 monks dedicated to a life of service to others was very inspiring and made him consider the possibility of becoming a monk. After spending six blissful months traveling around India, monastery hopping, he decided to return to the U.S. and moved into a monastery on the Lower East Side of the city that "never sleeps."
After spending 15 very active years as a monk traveling and lecturing all over the country, Pandit felt the need to have a family, so at the end of 2014, he left the monastery. Pandit's journey is chronicled in his book "Urban Monk: Exploring Karma, Consciousness, and the Divine."
Now, as a Mindful Leadership Expert, Pandit speaks to Fortune 100 companies, college campuses, and some government agencies and encourages individuals to develop a model of Mindful Leadership and treat their workforce with care and compassion. If employees feel cared for, they will be happier and as a result they will be healthier, more positive and more productive.
To invite Pandit for one of his speeches on Mindful Leadership or a Mindfulness workshop with Meditation, visit his website panditdasa.com and connect with him on LinkedIn.