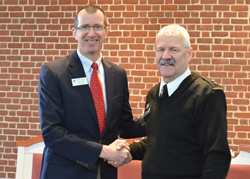 I believe that Houston Eldridge's leadership expertise and experience, as well as his level of advanced education, make him the ideal choice to serve as our 'Dean of Student', which is truly the role our Commandant of Cadets serves.
Fork Union, Virginia (PRWEB) January 27, 2017
Fork Union Military Academy today announced the selection of LTC Houston Eldridge to serve as Fork Union Military Academy's Commandant of Cadets. Eldridge has been on the faculty and staff of the college-prep boarding school since 1999.
He served as a teacher of Social Studies, teaching AP US History, Honors World History, and AP US Government and Politics, and became Chairman of the Social Studies department. In 2014, he was appointed the Academy's first Director of Character and Leadership, responsible for directing school-wide programs in character and leadership development at the all-boys military school. He developed the curriculum and taught a leadership class in the summer school program for many years, and this past year began teaching a leadership class during the regular academic year for all sophomore students.
During his time at Fork Union Military Academy, Eldridge created and coordinated the annual Civics Day at which cadets hear speakers representing national, state, and local candidates for election, and participate in forums, debates, and a mock election. He also created and served as editor for the newsletter Front & Center during the time that print newsletter was being published. He has been tapped by the Virginia Association of Independent Schools to serve as a member of a visiting accreditation committee reviewing other schools, and has served as the Military Committee chairman in conjunction with the Academy's own ongoing school accreditation process. He has served the school as head lacrosse coach (2003-2011) and assistant football coach.
Eldridge received his Bachelor of Arts degree in Liberal Arts with a minor in Psychology, from the University of North Carolina in Charlotte. He earned a Masters Degree in Public Policy Journalism from Regent University. In addition, he has completed a number of hours of classwork towards a second Masters Degree in Teaching: Continuing Education from Liberty University in Lynchburg, Virginia. His education and training also includes certification as an Emergency Medical Technician, Smoke Jumper School with the US Forestry Service, and courses in Advanced Trauma Life Support at Walter Reed Medical Center.
He served for two decades in the US Army with Special Forces involved in counter-terrorism and threat analysis operations around the world. In 2002, he was Battle Captain of the 3rd Special Forces Group at a Forward Operations Base in Afghanistan as one of the first military elements sent into that country following the events of September 11, 2001.
In announcing Eldridge's selection, RADM J. Scott Burhoe, the Academy's President, expressed his deep appreciation to 1SGT Eugene Brice, USMC, Ret., for "the tremendous work" he did serving as Acting Commandant in the past several weeks. 1SGT Brice will continue in his position as Deputy Commandant. "1SGT Brice will be a valuable mentor and supporter for LTC Eldridge during this transition," RADM Burhoe said, "and we are very fortunate for his commitment to service and his adherence to the Marine Corps motto of 'Always Faithful.'"
In describing his selection of LTC Eldridge as Commandant, RADM Burhoe said, "I always envisioned that the Director of Character and Leadership and Commandant of Cadets would be the same person. I interviewed external candidates and internal ones, and believe that Houston's leadership expertise and experience, as well as his level of advanced education, make him the ideal choice to serve as our 'Dean of Student', which is truly the role our Commandant of Cadets serves."
Fork Union Military Academy in Fork Union, Virginia, is a college preparatory, Christian, military boarding school for young men in Grades 7 through 12 and postgraduates. Affiliated with the Baptist General Association of Virginia and open to those of all religious denominations, Fork Union was founded in 1898 and has a rich tradition promoting character, leadership, and scholarship.