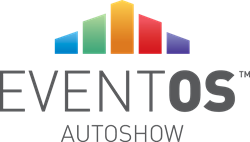 The new platform, called EventOS with epass, streamlines the attendee experience by centralizing consumer registration across multiple elements including an all-new website, a highly immersive app and ticketing by including a unique "epass" ID.
Chicago, IL (PRWEB) January 30, 2017
Experiential marketing analytics provider, eshots, Inc., has announced a partnership with the Kansas City International Auto Show to improve the attendee experience using an all-new digital platform. Auto show attendees are typically required to repeatedly enter contact information to get vehicle data, which is time-consuming for consumers and exhibitors alike. The new platform, called EventOS with epass, streamlines the attendee experience by centralizing consumer registration across multiple elements including an all-new website, a highly immersive app and ticketing by including a unique "epass" ID printed on every ticket. Once registered, consumers can request vehicle data, participate in test drives, or enter contests and sweepstakes using their epass-enabled ticket or by accessing their epass QR code inside the app.
The platform benefits auto manufacturers as well. EventOS was tested during the 2016 Chicago Auto Show, where epass users averaged just 17 seconds to participate in one automaker's campaign, versus several minutes for those without epass. The platform helped Brand Ambassadors better serve consumers during high demand periods resulting in more high-quality sales leads. Brands that participated in the pilot saw dramatic increases in total attendee engagement, as consumers chose to connect with them before, during and after the show using the enhanced website and mobile application. Consumers can request vehicle information directly from Brand Ambassadors or from kiosks located within each participating automaker's space. This easy access to information, combined with the low-pressure sales environment, helps connect more consumers to the Brands they may be interested in purchasing.
Overview of the epass consumer experience:

Once consumers register their tickets at a kiosk at the Auto Show, the QR code on the ticket will link each registration across multiple checkpoints, creating an epass
As consumers enter an automaker's exhibition area, they can scan their epass to quickly request product information
epass shortens wait times, expedites contest/sweepstakes entry, and ensures reliable product information delivery
Attendees must register their show ticket to activate their epass. All tickets, including those purchased onsite at the box office, may be registered at any epass information tower located throughout the Auto Show floor.
"By being out in the field every day with our clients, we realized that many automakers were missing out on tens of thousands of consumers every year because there simply wasn't enough time to connect with them all. Consumers have more questions than ever before because of the massive changes in technology and safety systems available in vehicles today. EventOS allows the Product Specialists to focus on educating the consumer rather than asking them to enter data over and over again. When you see the millions of dollars automakers spend on their displays and vehicle concepts, you quickly realize that Auto Shows are really entertainment for consumers. In that regard, I often liken them to the Disney World of cars. This technology enables consumers to get the most out that entertainment, and any win for the consumer is a win for everyone" said Craig Steensma, founder, and CEO of eshots.
"We wanted to add an extra dimension of value to both our attendees and brand exhibitors," said Larry Carl, Producer of the Kansas City International Auto Show and CEO of the Automobile Dealers Association of Greater Kansas City. "Enhanced consumer engagement with the auto brands fulfills an objective that benefits our guests, and provides data and measurability for the OEMs."
This is the second Auto Show in 2017 to integrate EventOS with epass, following the Chicago Auto Show integration in February 2017.
Visit the Kansas City Auto Show and look for the epass logo to participate. For more information, visit http://www.kcautoshow.com.
ABOUT ESHOTS
Founded in 1998 and headquartered in Chicago, IL, eshots is the leading consumer lead capture, engagement and conversion platform in the experiential marketing industry. We are at the intersection of event-related technology, services and marketing sciences designed to maximize a brand's ROI around consumer events. We help our clients set and benchmark event strategies, maximize consumer lead capture and track/convert those leads into sales. Our team of consultative account specialists helps our clients uncover actionable insights within a data-driven framework to help them make better event planning decisions across the entire life-cycle of the event. Our clients are many of the most respected enterprise brands in the world, including FCA, Ford, Lincoln, Mercedes-Benz, Mitsubishi, and Nationwide, to name a few. We helped our clients capture over 3 million consumer leads from over 25,000 event days in the last year alone.
Press Contact
Daniel Maurer
Marketing Manager
eshots, Inc.
312-253-1500
** Photos available upon request