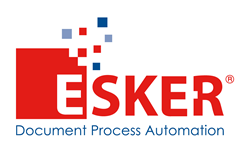 The TermSync solution is extremely intuitive for day-to-day AR teams. You don't have to change your process to fit the solution.
MADISON, WIS. (PRWEB) January 31, 2017
Esker, Inc., a worldwide leader in document process automation solutions and pioneer in cloud computing, today announced it is expanding its partnership with Fireproof Records Centers, an Ohio-based document imaging and management company, to automate the company's manual billing and collections process with TermSync's accounts receivable (AR) management solution.
Prior to implementing TermSync, the billing and collections process for Fireproof's 1,700+ accounts was handled manually by two people. With the number of accounts rising by 15-20 every month, the company's two-member AR team was stretched thin, and hiring another staff member to help manage growing invoice volumes seemed inevitable. Fortuitously, Fireproof's partnership with Esker was how the company got introduced to TermSync. Originally planning to promote the platform as an option for its customers, Fireproof quickly realized the potential benefits that TermSync could have on its own AR operations.
Today, Fireproof utilizes TermSync's AR automation solution to automate its billing and collections process with tools like automated payment reminder emails, online payment options, and customizable dashboards containing important metrics on account and employee activity. Operating similarly to a customer relationship management (CRM) solution, TermSync enhances customer relationships with its interactive tools and capabilities.
Since implementing TermSync, Fireproof has experienced a number of benefits, including:

Increased on-time customer payments thanks to an online portal with payment options
Enhanced process visibility with dashboards that can be tailored to each user
Reduced total outstanding AR balance by 5-10 percent
Improved productivity thanks to fewer manual tasks (e.g., ACH payments are now posted weekly instead of bi-weekly)
"The TermSync solution is extremely intuitive for day-to-day AR teams," said Fireproof chief financial officer Mark Riggs. "You don't have to change your process to fit the solution. It's built to work with you. In less than a month, we were off and running — the lack of barriers was greatly appreciated."
About Fireproof Records Center
Fireproof Records Center helps companies reduce the costs and risks associated with information protection and storage. With five central Ohio operating locations and over 100 years of experience serving its local community, Fireproof's management team has over 90 years of combined expertise in the industry and proven, leading-edge technology to manage your company's most valuable assets.
About Esker
Esker is a worldwide leader in cloud-based document process automation software. Esker solutions, including the acquisition of the TermSync accounts receivable solution in 2015, help organizations of all sizes to improve efficiencies, accuracy, visibility and costs associated with business processes. Esker provides on-demand and on-premises software to automate accounts payable, order processing, accounts receivable, purchasing and more.
Founded in 1985, Esker operates in North America, Latin America, Europe and Asia Pacific with global headquarters in Lyon, France and U.S. headquarters in Madison, Wisconsin. In 2016, Esker generated 66 million euros in total sales revenue. For more information on Esker and its solutions, visit http://www.esker.com. Follow Esker on Twitter @EskerInc and join the conversation on the Esker blog at blog.esker.com.