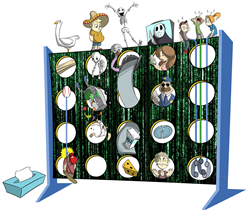 Think of it like flash cards...but with cartoons!
(PRWEB) February 01, 2017
Picture Success With CoursePics.
School's tough. The stakes are high, there's a staggering amount of information that students are expected to absorb, and everyone from the PTA president to Betsy DeVos has an opinion about how education should work.
And hitting the books? For a tech-savvy generation that's both dynamic and distracted, studying doesn't always come easily—at least, not traditional studying.
That's where CoursePics can help.
What CoursePics Does
Gone are the days of reading the chapter and highlighting key words. Science shows that highlighting, long a mainstay of traditional studying, is highly ineffective. Our brains are wired for storytelling, and humans are visual creatures. CoursePics believes that graphic and narrative representations of ideas can help the mind to analyze, unify and really understand material.
CoursePics helps us to study smarter, making learning fun while maximizing retention and mastery through picture and story associations.
How It Works
Memories are better retained with vivid, entertaining connections and associations, so CoursePics gives us a fun combination of mnemonics, visuals and narration to bring your study material to life.
CoursePics utilizes two modes to enlarge student recall and comprehension. In story mode, a narrative frames an illustration with cues that relate to core concepts. In learning mode, those visual associations are explained and presented with the most frequently tested high yield facts on a subject. Voice-overs provide additional auditory prompts.
Think of it like flash cards…but with cartoons.
An Invitation
CoursePics invited everyone to explore the newly-launched site and see the CoursePics difference for yourself. Visit CoursePics.com and test drive a course today! The biology course is live and offers study aids relevant to both high school and college biology.
CoursePics welcomes your reviews and feedback. Comments and questions can be directed to Ryan(at)CoursePics.com