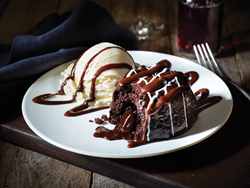 Herndon, VA (PRWEB) January 31, 2017
To celebrate Valentine's Day, 66 Applebee's throughout Virginia, Maryland, West Virginia, Pennsylvania and North Carolina are inviting everyone to share the love by giving guests a sweet deal made for two. Friday, February, 10 through Tuesday, February 14, with the purchase of two full price entrées, guests will receive an appetizer and/or dessert for only $2.14 each*.
The $2.14 Valentine's Day special gives Applebee's guests the freedom to create their own special celebratory meal rather than be confined to a preset, limited holiday menu. All items on the Appetizers menu and the Desserts menu will be available at the special $2.14 price. The special promotion highlights the date of Valentine's Day: 2/14. Guests who dine-in over Valentine's Weekend will also receive a coupon to use on their next visit.
*Dine-in only. Limit one appetizer and one dessert at special $2.14 price per two entrées purchased. Build Your Sampler and Classic Combo appetizers are not a part of Valentine's special. Cannot be combined with any other offer, discount, coupon, 2 for $20 or ½ price apps. Valid at Potomac Family Dining-owned restaurants in the Greater Washington, DC, Richmond, Shenandoah Valley, Hampton Roads and Elizabeth City areas. Guests should call their local Applebee's to determine participation.
The Applebee's Brand
Applebee's is the world's largest casual dining chain, with more than 2,000 locations in 49 states, 16 countries and one U.S. territory. Based in Glendale, Calif., Applebee's offers a lively bar & grill experience with an array of flavorful, hand-crafted drinks, appetizers and entrees that constantly evolve. Applebee's Grill & Bar® restaurants are franchised by DineEquity, Inc.
About Potomac Family Dining Group
Potomac Family Dining Group (http://www.potomacdining.com) owns and operates 66 Applebee's Grill & Bar® restaurants in the Mid-Atlantic region, including Virginia, Maryland, Pennsylvania, West Virginia and North Carolina. Headquartered outside of Washington, D.C., Potomac is focused on delivering a personalized, fun, friendly, carefree dining experience. Potomac Family Dining is also dedicated to ensuring that each location is reflective of its neighborhood and provides local residents, business professionals and travelers with a true neighborhood experience.