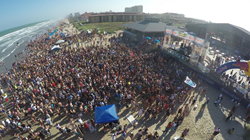 Dates announced for South Padre Spring Break Beach Stage
South Padre Island, TX (PRWEB) January 30, 2017
For the second straight year Inertia Tours and Red Bull SA will be partnering with Clayton's Beach Bar on South Padre Island, Texas for Spring Break 2017 college activation & entertainmnt for the Spring Break Beach Stage at Clayton's.
The daily beach parties in March are from 12 noon to 5 pm daily March 3rd - March 30th and are BYOB "bring your own beverage" on the beach with no cover charge. Headliner DJ's and contests will mark this entertainment venue.
"We're very pleased that a world class venue like Clayton's hosts all of our college students no matter what week their spring break is" says Chad Harr, the Founder of Inertia Tours. Inertia Tours is the largest provider of college spring break to South Padre Island. "Having Claytons which is directly on the beach with all this entertainment is a really big sales point for our packages." Last years' daytime DJs included Prince Fox, Crizzly, Morgan Page, iHeartMemphis, Quintino & more.
SpringBreakPartyPackages.com Director Jim Faile which markets spring break wristbands with night parties also directs its clients to Clayton's Spring Break Beach Stage. "Clayton's is definitely the hub of day time spring break as well as having major spring break concerts like UME" according to Faile. These spring break party package wristbands allows students to get complementary access for their entire stay at nighttime clubs like Louie's Backyard, Tequila Sunsets, Clayton's Beach Bar, and even a night time pool party at the Peninsula Resort. For more information about Spring Break on South Padre Island, Texas, please visit http://www.springbreakpartypackages.com.
About Inertia Tours:
Inertia Tours specializes in spring break trip packages to South Padre Island that include condos or hotels, meals, the biggest parties as well as the infamous Party Yacht Cruise. Inertia has been featured multiple times on the Travel Channel and hosts the top channel for spring break videos on youtube.com/inertiatours. Current sponsors include Budweiser, Beatbox, Red Bull & San Marvelous clothing as well as Palm Breeze & Mike's Hard Lemonade.
About Clayton's Beach Bar:
Clayton's is the Island's #1 event venue hosting artists such as Lil' Waye, T-Pain, Nelly, Sublime with J. Cole, Afrojack, DJ Skribble, & more. Clayton's is the largest beach bar on the gulf coast of the United States as well as hosting UME, the Ultimate Music Experience March 16, 17, & 18.
About SpringBreakPartyPackages:
For over a decade, SpringBreakPartyPackages has provided spring break party package wristsbands to students. Their party packages are promoted by 5 different spring break tour Companies such as Inertia Tours, SWAT, Student Breaks, STS Vacations, & Lifestylez.