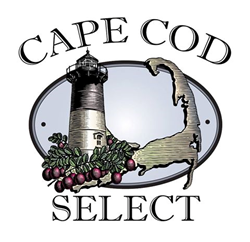 Carver, MA (PRWEB) January 30, 2017
Cape Cod Select is excited to announce that Shanna Schad of Las Vegas, NV was the $1,500.00 Grand Prize Winner of their first annual Holiday Blogger Recipe Challenge. Kelly Williams of Forked River, NJ was the $500.00 winner of the beverage category and Ganeshchandra Mallya of West Lafayette, IN was the $500.00 winner of the entrée category.
Bloggers from across the nation were challenged to show off their culinary creativity by submitting original recipes using Cape Cod Select's fresh farmed frozen cranberries. After weeks of judging, Shanna Schad's Sparkling Prosecco Cranberry Bundt Cake was the Grand Prize winning recipe which can be found on her blog, Pineapple and Coconut. The judging team agreed Schad's creativity, style and spunk truly captured the true essence of preparing dishes using Cape Cod Select Premium Cranberries. As a company, Cape Cod Select is proud to provide all foodies, like Schad, with the highest quality all-natural products.
Kelly Williams' Frosty Chocolate Cranberry Frappe recipe won the beverage category. It can be seen on her blog, Wildflour's Cottage Kitchen. William's dazzled the judges with her use of creative ingredients and beautiful presentation. Ganeshchandra Mallya's Cranberry Pesto Pasta recipe won the entrée category and can be found on her blog, Cook with Kushi. Mallya's twist on a traditional pasta dish left judges speechless. All the winning recipes really impressed the judges based upon their creativity, originality and use of ingredients.
"It was so inspiring to see the creativity and originality from these bloggers across the country. We were truly impressed by the quality of each recipe that was submitted," said Cindy Rhodes, founder of Cape Cod Select. "Each blogger showed how easy it is to invent cranberry dishes and beverages that are creative, simple and delicious when creating a homemade recipe with our cranberries."
Grand Prize Winning Recipe by Shanna Schad, Pineapple and Coconut
Sparkling Prosecco Cranberry Bundt Cake
Ingredients

15 oz all purpose flour ( just shy of 3 cups)
1½ tsp baking powder
½ tsp baking soda
½ tsp salt
2¾ sticks unsalted butter (1 C plus 6 tbsp) at room temperature
2 C granulated sugar
4 whole eggs, room temperature
1 tsp vanilla extract
¾ C prosecco
2½ C Cape Cod Select Premium frozen cranberries
1 c white chocolate chips
Glaze:

2 C powdered sugar
2-3 Tbsp cranberry syrup**
2 tbsp prosecco
Instructions
1. Grease a 12 C bundt pan well with butter then flour lightly. Preheat oven to 350 Deg F.
2. Im a medium bowl whisk together the flour, baking powder and soda and salt. Set aside.
3. In a bowl of a stand mixer cream the butter and sugar together well, about 3-4 minutes. Add in the eggs one at a time, mixing well between each addition then add in the vanilla extract.Mix well then scrape down the sides. Alternate adding the flour and prosecco and mix until just combined. Fold in the cranberries and white chocolate chips by hand. Pour into the prepared pam and smooth out the top. Bake for 65-75 minutes or until a toothpick used to poke through to the center of the cake comes out clean.
4. Cool in pan 10 minutes then invert on a wire cooling rack and cool completely before glazing.
To make the glaze
1. In a medium bowl combine the powdered sugar, two tablespoons of cranberry syrup** and two tablespoons of prosecco. Stir until fully combined and smooth. This will be a thick glaze. If a thinner glaze is desired add more cranberry syrup one tablespoon at a time. If the glaze ends up too thin, add in more powdered sugar.
Categories for the blogger recipe challenge included beverages (alcohol and non-alcohol beverages), entrées (no side dishes), and baking dishes. Bloggers were encouraged to participate in all three categories. One winner was selected from each category and awarded $500.00.The winning recipes from each category then competed to see who would become the $1,000.00 Grand Prize Winner.
Cape Cod Select premium frozen cranberries are farm fresh, recipe ready, have no additives or preservatives and are Non GMO. Besides offering farm fresh frozen cranberries, Cape Cod Select also offers consumers a line of mixed fruit including Cranberries Plus Blueberries, Cranberries Plus Blueberries, Blackberries, Raspberries and Cranberries Plus Pineapple, Mango, Banana that provide consumers and families with a healthier lifestyle choice year round.
About Cape Cod Select
Cape Cod Select is a 4th generation family owned and operated business located in Carver, Massachusetts. Paving their way in frozen fruits, Cape Cod Select places great importance on the safety and quality of their cranberry products. Cape Cod Select's cranberries are farmed for today's retail markets that demand sustainable harvest practices and traceability of source. Cape Cod Select cranberry products are being positioned for green and sustainable retail markets nationwide including Chain Supermarkets, Independent Supermarkets, Gourmet Food Stores and Club Stores. Cape Cod Select's frozen cranberries, Cranberries Plus Blueberries, Cranberries Plus Blueberries, Blackberries, Raspberries and Cranberries Plus Pineapple, Mango, Banana provide consumers and families with a healthier lifestyle choice year round. For more information about Cape Cod Select, contact Cindy Rhodes at 508-866-1149 or email her @ crhodes(at)capecodselect(dot)com