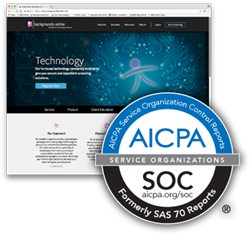 We continually invest in the ever-changing processes surrounding data security and confidentiality.
Sacramento, CA (PRWEB) January 31, 2017
Backgrounds Online, a prominent provider of background screening solutions, announced that the company completed their Service Organization Controls 2 (SOC 2) audit under AT Section 101, Attest Engagements (AICPA, Professional Standards).
The audit was conducted by A-LIGN, a nationwide security and compliance solutions provider, which was recently selected by the National Association of Professional Background Screeners to perform their 2017 BSAAP accreditation audits. A-LIGN evaluated processes, procedures and controls developed and operated by Backgrounds Online over a 6-month period (April 1, 2016 to September 30, 2016).
About the Audit
The examination focused on controls related to the Trust Services Principles and Criteria of Security and Confidentiality.

Security: The system is protected against unauthorized access.
Confidentiality: Information designated as confidential is protected as committed or agreed.
The audit confirmed that the company's controls were suitably designed and operated effectively to provide reasonable assurance that the service criteria were met throughout the specified period. A-LIGN offered an unmodified audit opinion accompanying the SOC 2 report they issued.
Backgrounds Online is Committed to Security
"We continually invest in the ever-changing processes surrounding data security and confidentiality. We are proud to be one of the few background screening companies that have a SOC 2 report with no exceptions and accreditation by the National Association of Public Background Screeners.", said Christopher Ballas, CEO of Backgrounds Online.
About Backgrounds Online
Since 1997, Backgrounds Online has helped businesses of all sizes streamline their employment screening and background check needs through the use of intuitive online services and a friendly, dedicated team of service professionals. Backgrounds Online utilizes a variety of screening solutions, including standard web access, custom web applications, and advanced data integration to service companies of any size, from smaller organizations to Fortune 500 alike. For more information, visit http://www.backgroundsonline.com.