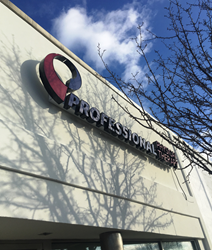 Our new location will ensure that our patients are comfortable, treated promptly, and are given the highest quality care in one convenient location,
Rockville Centre and Uniondale, NY (PRWEB) February 13, 2017
Professional Physical Therapy, a leading provider of physical therapy and rehabilitation clinics throughout New York, New Jersey and Connecticut, announces today the opening of a brand new, state-of-the-art clinic located at 279 Sunrise Highway, Rockville Centre in Nassau County, NY.
Conveniently situated along the busy and popular Sunrise Highway, this new location will offer full-service Physical, Hand and Occupational Therapy to the community. In addition, Professional Physical Therapy will bring its Rockville Centre Hand Therapists and patients (from the former 176 N. Village Avenue location) into this brand new facility, to serve the community under one roof. Stephanie Bradbury, formerly with Professional's Merrick clinic, will be the Clinical Director of Physical Therapy services, while Rich Scalise, a well-known and trusted name throughout the community, will continue to spearhead the Hand and Occupational Therapy services.
Tim Mauro, Partner and Vice President of Clinical Operations at Professional Physical Therapy in Long Island and Queens states, "Congratulations to Stephanie Bradbury and Rich Scalise, as they join forces to meet the needs of such a busy, centrally located village in Nassau County. It's a pleasure to watch Stephanie work her way up, as she started her career with us as an aide, then a student through our Clinical Affiliation Program, has grown and developed into a seasoned Physical Therapist and Clinical Director. Rich Scalise brings his stellar reputation, along with his Hand and Occupational Therapy expertise to the new Sunrise Highway location, where he will continue to provide specialized hand and upper extremity treatment. I'm extremely proud to work with this winning team!"
"This new, cutting-edge, 3,600 square foot clinic in the heart of Rockville Centre is an enhancement on so many levels. Not only are we offering Physical Therapy, which is the foundation of our business, but we're giving our Hand and Occupational Therapy patients and staff a new and upgraded home. This will ensure that our patients are comfortable, treated promptly, and are given the highest quality care in one convenient location," adds George Papadopoulos, Founding Partner and Chief Development Officer at Professional Physical Therapy.
Professional Physical Therapy is the recipient of the 2016 ADVANCE for Physical Therapy and Rehab Medicine magazine's annual Practice of the Year award. Professional was selected based on clinical expertise and exceptional patient experience. For more information and a list of all of Professional Physical Therapy's locations, please visit http://www.professionalpt.com.
About Professional Physical Therapy
Professional Physical Therapy, headquartered in Uniondale, New York, is an award-winning, leading provider of physical and hand therapy and rehabilitation services throughout the New York metropolitan area, New Jersey and Connecticut. Founded in 1998, Professional Physical Therapy operates 107 outpatient physical and hand therapy centers: 12 located within Equinox Fitness Centers, five located in Blink Fitness facilities, one located in a STACK Sports Performance Center, one inside a Golf & Fitness Academy, one inside Chatham Club, one inside Strive Fitness, and 86 standalone. The company's outpatient physical therapy centers provide treatment to patients suffering from musculoskeletal impairments associated with orthopedic and sports injuries and other medical conditions. Professional Physical Therapy also operates a 20,000 square foot sports performance training facility in Garden City, NY, as well as four fitness centers in Stamford, Wilton, Southport, CT, and Copiague, NY. http://www.professionalpt.com