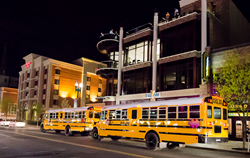 Transfinder continues to look for new opportunities – new markets to enter, new partners to work with and new products to develop that will help our clients be successful. We cannot and will not stand still.
Schenectady, New York (PRWEB) January 30, 2017
Transfinder Corp. closed 2016 with record revenue of $12.7 million, a 9 percent increase over 2015, when the global software company recorded $11.6 million in revenue.
Transfinder, which develops transportation logistics and fleet maintenance software, closed 2016 like it has the past 16 straight years, in record territory. Growth was driven by new products and product upgrades, with research and development departments in Transfinder's Schenectady, New York, and Shanghai, China, working around the clock.
"2016 marks the year that Transfinder grew not only as a national company but as an international player in the logistics space," said Transfinder President and CEO Antonio Civitella.
In 2015, Transfinder announced several new initiatives, including its first office outside of Schenectady, in Austin, Texas, and its first international office, in Shanghai, China; launched a new product called Viewfinder as well as made its first move into social media, with the creation of Selfiefinder.
"It's one thing to open an office or launch a product and quite another to make those endeavors successful and meet the high standards your clients come to expect," Civitella said. "In 2016, we worked to make the Austin and Shanghai operations extremely productive and we focused on ensuring that each location had at its core the Transfinder culture. It is working. Transfinder's Austin office received the coveted Customer Service award from the Austin Chamber of Commerce. At the same time, our Shanghai operation is growing and the team there works extremely well with our Schenectady team."
In 2016, Viewfinder, which allows users to monitor day-to-day transportation operations from any device, gained market acceptance, experiencing exponential growth in both users and revneu.
And Transfinder's social media product Selfiefinder, launched in 2015, gained acceptance in 2016 in both schools as well as in sporting venues such as the Joseph L. Bruno Stadium where the ValleyCats' minor league baseball team plays, and the Times Union Center, home of Siena basketball. Much of the functionality created in the development of Selfiefinder has moved into other Transfinder products
Transfinder launched new initiatives in 2016 as well, including the formation of a non-K12 division that is focused on fleet maintenance and creating the Transfinder Marketplace, where clients can choose from vetted Transfinder partners on complementary offerings, such as GPS and camera technology, that integrate well with Transfinder technology.
Other 2016 highlights include:

20 percent growth in new sales;
Tenth consecutive year on Inc. magazine's fastest-growing companies list;
173 new clients, including the first in the Middle East, Dubai Taxi Corp.;
First partner in the Middle East, Dubai Technologies;
Closed 92 percent of all client issues within 24 hours, surpassing the industry standard.
In addition, Transfinder continued to increase its national and international presence at tradeshows across the country, attending 41 conferences in 26 states and two Canadian provinces. It also took its popular Transfinder University three-day training series "On the Road," with its first being held to a sold out crowd in Ohio.
"Transfinder continues to look for new opportunities – new markets to enter, new partners to work with and new products to develop that will help our clients be successful," Civitella. "We cannot and will not stand still. Our clients – and future clients – are counting on us to continue to push the envelope on technology and service."
About Transfinder
Founded in 1988 and headquartered in Schenectady, New York, Transfinder is a national leader in intelligent transportation systems, providing transportation management systems and services to municipalities, school districts and adult care facilities. Transfinder, an Inc. magazine "fastest-growing company" for the past ten straight years, has offices in Austin, Texas, and Shanghai, China. The software company develops and supports routing and scheduling solutions for optimal transportation logistics. For more information, visit http://www.transfinder.com.