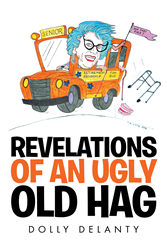 Vancouver, British Columbia (PRWEB) January 30, 2017
With a unique and hysterical twist, 81-year-old author Dolly Delanty turns the everyday mundane events at her retirement home, and abroad in Australia, into laugh-out-loud satirical and honest vignettes in her new book, "Revelations of an Ugly Old Hag."
Delanty initially started writing the book to describe how one feels when they go into a retirement home, but it quickly turned into a parody as she immensely enjoyed retelling the events in a satirical manner.
In an excerpt from the book, Delanty describes her observations of the residents at her retirement home after speaking to her doctor:
"My OB-GYN told me that the incidence of STDs is extremely big in retirement and nursing homes…Looking around me, I don't know how any of the men can do anything vaguely resembling the sex act. Bloody hell! Most of them are in their 80s and 90s. It looks to me that the ladies could be up for it though. Hooray for woman power!"
"The book is outrageous at times and helps readers escape the tension of today's world for a while," said Delanty. "I tend to make fun of people and myself. Is it mean spirited? Some may think so. I don't obviously. Everything is tongue-in-cheek and not to be taken too seriously."
With its expletive details and witty quips, her book requires readers to have an open mind and a sick sense of humor. To learn more about the author and her book visit, http://www.dollydelanty.com.
"Revelations of an Ugly Old Hag"
By Dolly Delanty
ISBN: 978-1-5245-3278-9 (HC), 978-1-5245-3277-2 (SC), 978-1-5245-3276-5 (EC)
Available at DollyDelanty.com, Amazon and Barnes & Noble
About the author
Author Merlyn White, who writes as her alter ego, Dolly Delanty, is 81-years-old and going strong. In addition to publishing her new book, White has written, directed, and produced her own stage plays and written monologues for actors. Prior to retiring, White was also a professional vocalist, lecturer on Australian Aboriginal art and a restaurant owner and chef. She loves a good joke, especially when it's on her and hopes her book will give other seniors incentive to extract as much out of their life as possible. White currently resides in a retirement community in Port Coquitlam, British Columbia and the fun has just begun!
For Review Copies & General Inquiries Contact:
LAVIDGE – Phoenix
Lauren Dickerson
ldickerson(at)lavidge(dot)com
480-998-2600