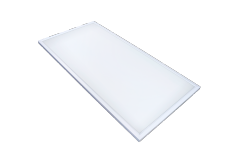 Making Lighting Better Everyday
Vernon Hills, IL (PRWEB) January 29, 2017
ETI Solid State Lighting, a leader in high-quality, commercial and residential lighting solutions, today announced the introduction of the "Flush Mount" Low Profile Flat Panel LED Luminaires. Featuring a sleek, stunning and small-form design at only 0.9 inches in height with an integrated driver, the new "Flush Mount" Flat Panel luminaires provide users with industry-leading performance at an incredible value for offices, retail, schools, data centers and other commercial applications where space is limited.
Highly efficient, these luminaires deliver up to 100 lumens per watt for 4250 nominal lumens, reducing energy costs by 50 percent when compared to T8 fluorescent fixtures. Available in 2x2 and 2x4 units, these high-performance LED fixtures deliver consistent, high-quality white light and uniform illumination without pixilation, creating a more vibrant environment.
Perfect for retrofit and new construction applications, the "Flush Mount" Low Profile Flat Panel Luminaires allow for easy installation and maintenance, with a lightweight design that enables access to the LED, as well as compatibility with any standard T-Bar or screw slot grids. Also for flush mounting, a mounting kit is readily available for dry wall, or for suspension using aircraft grade cables. The fixtures also deliver a remarkably long service life of 80,000 hours at 70 percent lumen maintenance.
Additional features of the "Flush Mount" Flat Panel Luminaires include:

4000K and 5000K color temperatures, with an 80 CRI minimum
Standard 0-10 volt dimming drivers that smoothly dim down to 10 percent
Meet the standards for the DesignLights Consortium® Qualified Products List, which signifies that the fixtures are of high quality, performance and provide energy efficiency to the commercial sector.
Product is currently available through ETi Solid State Lighting distributors. For more information about the new fixtures, please visit our website.
About ETi Solid State Lighting, Inc.
ETi Solid State Lighting is a wholly owned subsidiary of Elec-Tech Solid State Lighting (HK) Ltd., providing the latest in LED lighting technology with a growing line of products that include LED tubes, fixtures, LED down lights, and portable under cabinet lights. With Jadestone managed funds holding 100% interest in Elec-Tech Solid State Lighting (HK) Ltd., the company is now well-positioned for further growth and value creation building on its robust manufacturing value chain, end-user driven innovation product development, global management team and strong customer base.