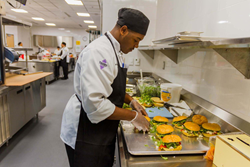 "The teachers and chefs here are all great," Mills said. "Their affirmations mean a lot. I really believe that if you work as hard as you possibly can, things will fall into place."
Kalamazoo, MI (PRWEB) January 29, 2017
Kalamazoo Valley Community College's newest culinary classroom, the 418 restaurant, is now open to the public. "This student-run restaurant offers a unique learning opportunity," said John Korycki, director of culinary education for the college. "Our chefs-in-training are serving American cuisine that they've crafted with foods from local farms and our own campus."
Both the 418 restaurant and the Havirmill Café are run by students in Kalamazoo Valley's culinary arts program and are housed in the Culinary/ Allied Health Building, located at 418 E. Walnut Street in downtown Kalamazoo.
Korycki explained that Kalamazoo Valley's culinary arts program reflects a belief in the transformative power of education to improve the health and well-being of area citizens and to sustain the community. Students learn in real production kitchens and food service environments, on a working sustainable farm, in a fully-functioning brewery, and in an active food production and distribution facility.
The college's Menus that Matter™ curriculum is grounded at the intersection of food production, social justice, environmental sustainability, nutrition, and health.
Student Ty Mills, a 2015 Portage Northern graduate, considered going to Robert Morris University in Chicago to study, but is pleased that he chose Kalamazoo Valley instead. "This worked out perfectly," he said. "It's been a huge blessing." Mills is going to school part time while working at local restaurant, Bravo. His mother and grandmother are both exceptional bakers and he's following in their footsteps. Even though he grew up in the kitchen and has plenty of restaurant work experience, he continues to learn. "My chocolate chip cookies that I learned to make in baking class are exceptional," he said. "I love my chocolate chip cookies."
He said he considers any time in the kitchen an opportunity to perfect his craft. In one of his classes, he learned to flip an omelet by practicing with a tortilla. Roasted fennel also turned out to be a delicious surprise.
"The teachers and chefs here are all great," Mills said. "Their affirmations mean a lot. I really believe that if you work as hard as you possibly can, things will fall into place." He hopes to study in Italy one day. "I know wherever I go, I'll be cooking food and talking to people," Mills said.
The 418 restaurant is open for dinner from 5:30 to 7 p.m. Tuesday through Friday from January 26 to February 24 and reopening in mid-March until April 21. Reservations are highly recommended and can be made by calling 269.548.3200.
The winter dinner menu includes appetizers of kale salad with sweet potato, apple, walnut and cider dressing; warm white cheddar dip with pickled vegetables and chips; and stuffed sweet peppers with parmesan, cauliflower and arugula. Entree choices include crispy chicken with coleslaw, smoky beans and greens; braised Carlson Farms beef stew with root vegetables and mashed potato; fish en papillote with wild rice, leek, carrot, herbs and lemon butter; and roasted squash ravioli with sage butter and toasted almond. The dessert selections are dark chocolate cake with chocolate cream and sangria sauce; and vanilla ice cream with pear compote and brown sugar crumble.
The Havirmill Café offers ready-made items and a small menu of made-to-order foods and is open Tuesday through Friday from 11:30 a.m. to 1 p.m. through February 24.
For menu and scheduling updates, look for KV Culinary on Facebook at https://www.facebook.com/KVculinarydining/.
For More Information Contact
John Korycki, Director of Culinary Education
269.548.3215