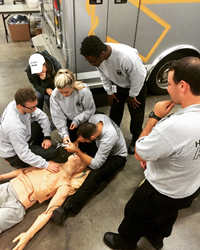 This is an all-time high for the agency, with volunteers responding to approximately one call every hour, every day of the year.
Harrisonburg, VA (PRWEB) January 28, 2017
In 2016, the all-volunteer Harrisonburg Rescue Squad received a record-breaking 8,920 emergency calls for service - approximately 300 more than in 2015. This is an all-time high for the agency, with volunteers responding to approximately one call every hour, every day of the year. As call volume grew, so did the number of volunteers. HRS's membership reached 190 volunteers, and thanks to these dedicated individuals, HRS is able to answer the ever-increasing 911 call volume of the Harrisonburg-Rockingham community.
In order to continue providing excellent pre-hospital care, HRS offers frequent and consistent training opportunities to its members. An Emergency Vehicle Operators Course is offered every other month, and two Emergency Medical Technician (EMT) courses are offered each year to ensure that members who join with no medical experience are able to receive quality training and necessary certifications quickly. After completing their courses, volunteers spend time under the guidance of HRS preceptors (or mentors), allowing the agency to standardize the care and attention that each patient receives, and to ensure that it is of the highest quality. Various other training opportunities continue for all members even after the mentorship is completed so that current skills and knowledge are maintained and new skills are mastered.
For members working to advance their emergency medical training, HRS hosted an EMT-Basic to Paramedic course for the first time in the agency's history. This class enables both HRS volunteers and providers from surrounding agencies to advance their Emergency Medical Services (EMS) certification to the Paramedic level, learning skills such as cardiac EKG interpretation, medication administration, and advanced airway procedures. HRS looks forward to continuing the mentoring process with these students once the class completes in early 2017.
In addition to emergency medical care and transport, HRS provides technical rescue services via a Special Operations Team and Heavy Rescue squad truck. In 2016, HRS hosted its first ever Special Operations Training Academy which covered vehicle extrication, rope rescue, basic hazardous materials handling and more to volunteers who expressed interest in the specialty. Special Operations volunteers spent countless hours designing and teaching a curriculum for members with no special operations experience so that they can work towards becoming a Special Operations Technician at HRS.
HRS encourages anyone who may be interested in joining or learning more about the rescue squad to sign-up for a commitment-free ride along at https://www.harrisonburgrescue.org/observe. "Observer shifts are the best way to learn about the rescue squad and see the proficiency of our members in action," said Hilary Jacobson, HRS Vice President and Membership Chairwoman. "It's also the first step in a potential application, which requires no previous medical experience and only a CPR certification. If accepted for membership, we assist all members through the training process both in the classroom and through patient contacts."
The agency anticipates another record-breaking year for calls and membership in 2017.
About the Harrisonburg Rescue Squad:
Harrisonburg Rescue Squad (HRS, also known as Rescue 40) is an all-volunteer EMS agency that provides service to Harrisonburg, VA, as well as parts of neighboring Rockingham County. HRS owns and maintains a full fleet of ambulances, response vehicles, a Heavy Rescue Vehicle, and a Mass Casualty Incident Response Unit. HRS has over 190 active volunteer members and each one is vital in responding to approximately 8,900 calls-for-service per year. HRS offers new member training, emergency driving certification, and many other EMS courses. The volunteers take pride in the ability to provide extensive life-saving services to the local community. For more information, to donate, to observe, or to volunteer with the Harrisonburg Rescue Squad, please visit https://www.harrisonburgrescue.org.