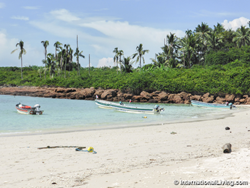 A forgiving climate works wonders for expat health and can have a positive impact on budgets by lowering utility costs, according to the editors at InternationalLiving.com.
Baltimore, MD (PRWEB) January 30, 2017
A forgiving climate works wonders for expat health and can have a positive impact on budgets by lowering utility costs, according to the editors at InternationalLiving.com.
That is why, the editors say,climate is an important category in the publication's annual Global Retirement Index, which compares, contrasts, ranks, and rates the top 24 retirement havens around the globe.
In the climate category, editors assess hard data for temperature, rainfall, and humidity, but also take into account anecdotal input from expats and correspondents living in the places being assessed.
"Statistics that average rainfall and temperature and such across a country are only so useful," says International Living Executive Editor, Jennifer Stevens. "After all, you don't live all over a country. You live in a particular place. And so that's why we also ask the expats living in the communities we recommend to give us their take on what the climate is really like.
"When the weather is comfortable year-round, people tend to go outside more," says Stevens.
"They're more active—and that leads to a healthier lifestyle. In the countries that take the top spots in the climate category of our Index this year, expats regularly report that, for instance, they walk more because it's nice to get out on a sunny day.
"Often they tell us they've lost weight and feel younger. They tend to eat better than they did at home, too. With long growing seasons in the places where the climate is best, it's easy to get fresh vegetables and fruit—and these items cost less than processed foods do. So expats walk to the local market and buy fresh ingredients to cook with in lieu of doing what they might have done back home, which is to head to a drive-through for fast food."
"What's more, in places where the climate is temperate and homes require neither heat nor air conditioning, that cuts down significantly on utility bills, which makes the cost of living that much more affordable."
The results of International Living's 2017 Global Retirement Index are in. Here are the five countries that came out on top of this year's Climate category.
Ecuador
Ecuador's rating of 100 in the Climate category of this year's Global Retirement Index is no mistake. Ecuador sits directly on the earth's equator. 12 hours of light, 12 hours of dark, every day of the year, with no major seasonal changes such as those experienced in the northern and southern latitudes.
Ecuador is also a country of mountains flanked on one side by a sea coast and on the other the upland rainforests of the Amazon basin.
Put the two together, and it means that Ecuador has almost any climate anyone could desire simply by going up or down in altitude. And the weather at that altitude will remain virtually constant all year round.
In the city of Cuenca, for example, temperatures average a high of 70 F during the day to 50 F at night. That daytime temperature can change pretty quickly depending on cloud cover, so going out with a jacket or sweater is common practice.
Drop down from Cuenca's 8,400-foot elevation to Vilcabamba at 5,000 feet, and the weather is still mild but warmer, with highs in the upper 70s F and lows of about 60 F at night.
Along Ecuador's Pacific coast, high temperatures reach close to 80 F. The coastal weather can vary depending on the angle of the coast, the offshore currents, and the prevailing winds, but in general Ecuador's tropical coast is everything a tropical coast should be.
Colombia
Colombia sits at 4 degrees north latitude, practically on the equator. As a result, Colombia shares many of Ecuador's climate advantages, and there are rarely any hurricanes.
Warm, tropical weather in the Caribbean coastal cities of Cartagena, Barranquilla, and Santa Marta offers average daytime highs touching 90 F and evening temperatures in the upper 70s F. Although it can be humid, afternoon and evening sea breezes make being out and about quite delightful. Expats say living here means an entire wardrobe consist of shorts, a bathing suit, t-shirts, and sandals.
With the three ranges of the Andes Mountains running down its spine, Colombia also has areas with a much more temperate climate. Medellín, Colombia's second largest city, is perched at 5,000 feet above sea level. The climate at this altitude gives Medellín the nickname "City of Eternal Spring," with daytime highs in the upper 70s F to mid-80s F, and evening temperatures that dip down to the mid-60s F every day of the year. No need to wear anything heavier than a light jacket. Polo shirts, jeans, or khakis are the daily uniform.
Mexico
Mexico is a big country, almost three times the size of Texas. And across its territory are a wide variety of climates, offering something for everybody.
In mountainous central Mexico, there is a temperate and dry climate, with virtually no humidity and lots of sunshine. Thanks to the elevation, between 3,000 and 7,000 feet, temperatures rarely get above the mid-80s F during the day. At night it dips into the mid- to high 60s F, just cool enough for a light sweater or jacket. During the coldest part of the year, January and February, it might get close to freezing on some nights. But in general, you don't have to worry about air conditioning or heating or the associated costs.
Much of the coastal areas in the central and southern parts of Mexico, on the Pacific and Caribbean, have a semi-tropical climate. That means heat and humidity in summer, with temperatures well into the 80s F during the day. There is also a rainy season, with overcast days and afternoon showers frequent from May to October. Dry season features lower temperatures and humidity and no rain. Expect pleasant, sunny days, with temperatures in the 70s F and low 80s F.
Panama
Whether it's the sultry heat of the lowlands or the cool mountain breezes of the highlands, Panama has it. Here, the holiday season begins in December with glorious summer weather. Each new year is characterized by beautiful sunny days, and in much of the country January through March are virtually rain-free.
In popular sea-level destinations like cosmopolitan Panama City and Coronado beach—both on the Pacific—average daytime temperatures are around 88 F. Ocean breezes help things cool down quickly once the sun sets. Evenings are usually about 10 degrees cooler, and "extreme heat"—anything above 95 F—is extremely rare.
In Panama's highlands, cool, spring-like weather is the norm. Daytime temperatures are often in the 70s F, with evenings up to 10 degrees cooler, but never cold. Here, similar to the lowlands, the wet season generally kicks off with light showers in May. On the Pacific Coast, where most people live, rain is typically predictable (an hour or two, starting between 2 p.m. and 5 p.m.). From August to November there can be heavy rains and storms, but as Panama is completely outside the hurricane belt, there isn't much to worry about.
Spain
Spain covers 85% of the Iberian Peninsula, so most of Spain's border is coastline. The Mediterranean Sea lies along Spain's eastern and southeastern border. The Atlantic Ocean and Portugal make up Spain's western and southwestern borders. The Bay of Biscay runs along Spain's northwest coast, while the rest of Spain's northern border abuts France and tiny Andorra.
Temperatures along Spain's coastline tend to be temperate, but not uniform. Temperatures are cooler along the northern coasts and hotter to the south. Along the coasts, average summer highs and average winter lows tend to be no more than about 25 F to 30 F apart. The reliable temperatures are one reason these coasts are popular with vacationers and expats.
Northwest Spain—the so-called "Green Spain" along the Bay of Biscay—enjoys cool summers and mild winters. (Summer temperatures average in the high 60s F and low 70s F, while winter temperatures are generally in the 40s F and 50s F.) This region is also green for the usual reason—plenty of rain. In fact, the climate is rather similar to that of the Pacific Northwest.
Spain's eastern Mediterranean coast is dryer and hotter, with more sunshine than in the Northwest. And the southern coast—the Costa del Sol and the Costa de la Luz, for example—enjoy more than 300 days of sunshine a year, with low humidity. Summers are hot, with average temperatures in the 80s F. But in winter, temperatures are often in the 60s F, making these areas agreeably mild for snowbirds.
The Pyrenees form Spain's northern border with France, and their snow-covered slopes are popular with skiers in winter. The Guadarrama Mountains, outside Madrid, and some ranges in southern Spain are also popular ski destinations. These are just a few hours from the Mediterranean beaches making it possible to ski in the morning and lie on a beach in the afternoon.
You can read more about the five countries that ranked best in the Climate category of the Annual Global Retirement Index here: The World's Best Climate: The Top 5 Countries.
Editor's Note: Members of the media have permission to reproduce the article linked above once credit is given to InternationalLiving.com.
For information about InternationalLiving.com content republishing, source material or to book an interview with one of our experts, contact Associate Editor Carol Barron, 772-678-0287 (US), CBarron(at)InternationalLiving.com.
For 36 years, InternationalLiving.com has been the leading authority for anyone looking for global retirement or relocation opportunities. Through its monthly magazine and related e-letters, extensive website, podcasts, online bookstore, and events held around the world, InternationalLiving.com provides information and services to help its readers live better, travel farther, have more fun, save more money, and find better business opportunities when they expand their world beyond their own shores. InternationalLiving.com has more than 200 correspondents traveling the globe, investigating the best opportunities for travel, retirement, real estate, and investment.