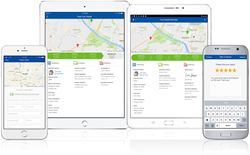 "Having clients now ask for a native mobile app for easier on-the-go ordering and tracking is a real indication of how they are looking at technology as a way to scale their same-day delivery needs."
AUSTIN, TX (PRWEB) January 30, 2017
Dropoff, the company reinventing on-demand, same-day delivery for business, today announced the launch of its first mobile app that allows clients to place and track courier and same-day delivery orders. The app is immediately available to download in the Apple App Store and the Google Play Store.
Traditional courier operations are often extremely manual with everything from pickup to delivery details coordinated over the phone, email or via fax, and with dispatch teams manually routing orders to drivers. Dropoff's initial web app technology tripled dispatch capacity overnight, and offered features such as online ordering, real-time package tracking, confirmations, and signature verifications. Now with the mobile app, Dropoff's busy clients are able to do everything from scheduling pickups to confirming deliveries from anywhere, any time, allowing them to focus on what they do best - run their businesses.
"Prior to Dropoff, many of our clients were making due with little or no technology from their same-day delivery providers. Moving the industry from that point to a modern web-app was a huge step," said Sean Spector, CEO of Dropoff. "Having clients now ask for a native mobile app for easier on-the-go ordering and tracking is a real indication of how they are looking at technology as a way to scale their same-day delivery needs."
The launch of the app follows a series of recent company announcements, including the introduction of Intelligent Dispatch™, a game-changing update to Dropoff's back-end infrastructure. A fast, scalable, 24/7/365 dispatch automation, this technology completely disrupts traditional, predominantly manual courier operations.
Intelligent Dispatch™ was a springboard for Dropoff to open its doors beyond Texas. In 2016, Dropoff quickly expanded across the nation with West Coast operations in Los Angeles and Orange County and East Coast operations in Miami, Fort Lauderdale, Orlando and Tampa, more than doubling their number of operational markets from four to ten. As Dropoff continues into 2017, the company will be focused on adding additional markets as it looks to become the first national same-day delivery provider for SMB and Enterprise clients.
Dropoff works with leading brands across many sectors relying on last mile delivery to get items into the hands of their clients quickly and professionally, including Sprinkles, Whole Foods, Neiman Marcus, Zazzle, CarePoint Partners, JW Marriott, OneTouchPoint and Cushman & Wakefield | Oxford Commercial.
To learn more about Dropoff, visit http://www.dropoff.com.
About Dropoff:
The courier industry is decades old and has remained relatively unchanged, with minimal use of technology, mediocre service levels and no national brand. Dropoff aims to become the first national brand for same-day delivery. We offer businesses a superior experience built on convenience, reliability and unmatched customer service, all powered by our proprietary technology platform. We provide easy web and mobile ordering, flexible delivery options, transparent pricing, real-time tracking and confirmations, up-to-the-minute ETAs, delivery Agent ratings and a feature-rich API for a seamless same-day logistics solution. Dropoff is headquartered in Austin, Texas. For more information about Dropoff, visit http://www.dropoff.com.