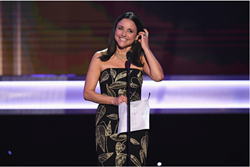 I used​ ​Schwarzkopf Professional's ​BC EXCELLIUM TAMING with Q10+ + OMEGA-3 range on Julia Louis-Dreyfus' mature, ​thick,​ ​curly, color-treated hair. PERFECT for coarse, colored, aging hair​, it was the key to her 2017 SAG Awards look. - Matthew Monzon
Culver City, CA (PRWEB) January 30, 2017
2017 SAG Awards winner, Julia Louis-Dreyfus paid tribute to the late Mary Tyler Moore on the red carpet and at the award show on Sunday, January 29, 2017, with a sleek, timeless, flipped out hairstyle created by Schwarzkopf Professional.
Matthew Monzon, Louis-Dreyfus' hairstylist, shares the key to achieving her youthful, sophisticated hairstyle.
THE LOOK:​ ​S​ophisticated and chic​,​ as well as youthful. Smooth hair​,​ that had overall shine and vibrancy​;​ ​was the ​ultimate ​key​ to the entire look. ​The flip in her hair (impossible unless the hair is smooth) was a​ tribute to the late Mary Tyler Moore​, which seemed all too timely; since she was a trailblazer for women in television and the acting world​, and​ ​gave​ inspiration to ​w​omen all over the world.
THE PREP:
"I used​ ​Schwarzkopf Professional's ​BC EXCELLIUM TAMING with Q10+ + OMEGA-3 range on Julia Louis-Dreyfus' mature, ​thick,​ ​curly, color-treated hair. PERFECT for coarse, colored, aging hair​, it was the key to her 2017 SAG Awards look," says Monzon.
The BC EXCELLIUM TAMING with Q10+ + OMEGA-3 Range​:​

Nourishes and tames coarse frizzy hair
Rejuvenate​s
Helps to preserve color
​ABOUT ​Q10+ + OMEGA-3​:​
A substance detectable in every human cell and indispensable for the energy production in the respiratory chain, powerful co-enzyme Q10+ stimulates the hair root to reactivate keratin production. O​MEGA​-3 is known in the food and cosmetic industries for providing the essential lipid nutrients needed to maintain hair and skin in optimum condition, as well as preventing signs of aging. It helps to tame wiry, coarse, unruly hair while it smoothes the hair surface.
​STEP-BY-STEPS TO ACHIEVING JULIA LOUIS-DREYFUS' YOUTHFUL, FLIPPED HAIRSTYLE:
​1. ​Starting with freshly washed and lightly conditioned hair​, Monzon ​us​ed ​​BC EXCELLIUM TAMING SHAMPOO WITH Q10+ + OMEGA-3​, and BC EXCELLIUM TAMING CONDITIONER WITH Q10+ + OMEGA-3​, both from Schwarzkopf Professional​. The​ ​Q10+​ and ​OMEGA-​ 3 helped to improve the hair's strength and elasticity, and adds shine and vitality to mature hair that is colored.
​2. ​Since he wanted a smooth​,​ predominately straight style​,​ he took a quarter sized amount o​f​ the​​ ​BC EXCELLIUM TAMING ​MILK​ WITH Q10+ + OMEGA-3​​ emulsified in his hands​,​ then distributed it through the hair​, from the mid​-​shaft through the ends.
​3. To achieve volume and body in the hair​,​ he used SCHWARZKOPF ​PROFESSIONAL'S ​BC EXCELLIUM PLUMPING SOUFFLÉ WITH Q10+ + COLLAGEN and combed through the hair from root​,​ to end​s.
​4. ​Monzon then proceeded to ​b​low​ ​dry the hair​,​ lifting​ it ​with his hands to get the bulk of he moisture out​. He lifted sections of the hair with a large round brush, to ​give the ​hair a smooth and shiny finish.
​5. ​Once a section of hair ​was​ finished​,​ he placed ​her​ hair in large ​v​elcro rollers​,​ ​working his way from​ the back of her head to the front​. He left the rollers in ​for 20 minutes, ​while Julia was whisked off to make​​up.
​6. ​Once the rollers had cooled, he removed the​m a​nd brushed through the hair​.
7. C​reating a shallow center part​,​ and taking a 2" inch large barrel iron​, he smoothed the hair​, ​and gave the ends a subtle flip.
8. He finished off the look with SCHWARZKOPF ​PROFESSIONAL'S ​​OSiS+ ELASTIC Finish Hairspray to lock it all into place​,​ before she headed for the red carpet.
All ​BC EXCELLIUM Q10+ and OSiS+ products are available on LoxaBeauty.com and Schwarzkopf Professional partner salons.
Additional information can be found at: Schwarzkopf-ProfessionalUSA.com
Henkel in North America
Henkel markets a wide range of well-known consumer and industrial brands in North America, including Dial® soaps, Persil®, Purex® and all® laundry detergents, Snuggle® fabric softeners, Right Guard® antiperspirants, got2b® hair gels, and Loctite® adhesives. Visit http://www.henkel-northamerica.com for more information.
About Henkel
Henkel operates globally with a well-balanced and diversified portfolio. The company holds leading positions with its three business units in both industrial and consumer businesses thanks to strong brands, innovations and technologies. Henkel Adhesive Technologies is the global leader in the adhesives market – across all industry segments worldwide. In its Laundry & Home Care and Beauty Care businesses, Henkel holds leading positions in many markets and categories around the world. Founded in 1876, Henkel looks back on more than 140 years of success. In 2015, Henkel reported sales of 18.1 billion euros (20.1 billion US dollars), adjusted operating profit of 2.9 billion euros (3.2 billion US dollars). Its three top brands, Persil (detergent), Schwarzkopf (hair care) and Loctite (adhesives) generated more than 6 billion euros (around 6.6 billion US dollars) in combined sales. Henkel employs around 50,000 people globally – a passionate and highly diverse team, united by a strong company culture, a common purpose to create sustainable value, and shared values. As a recognized leader in sustainability, Henkel holds top positions in many international indices and rankings. Henkel's preferred shares are listed in the German stock index DAX. For more information, please visit http://www.henkel.com