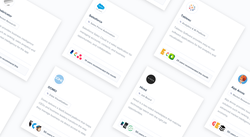 With so many software choices available, Trending Products is the new fastest and easiest way to stay on top of B2B products that are making waves.
San Francisco, CA (PRWEB) January 30, 2017
Siftery, the B2B software community database company, today released Trending Products, a live ranking of the top trending business-to-business and enterprise software solutions from a growing database of more than 12,000 software products. Trending Products is designed to be a dynamic and authoritative list of the software products that companies use and recommend—based on recommendations from verified users at more than 250,000 companies on the Siftery platform.
Trending Products — the definitive source for insights into business software usage.
Verified usage provides a clear and true signal —  Recommendations are based solely on input from verified business users, providing an accurate gauge of true business use and preference.
Role-based insights offer granular detail for best fit — Detailed user profiles offer insight into usage by role and department, providing clear insight into the best products for each department or role.
Real-time updating ensures immediate accuracy  — Trending Products updates in real-time as new recommendations come in and utilizes a 30-day rolling window to balance reliability with immediate popularity.
"With so many software choices available, business users need clear insights into the best products available for their unique needs. Trending Products is the new fastest and easiest way to stay on top of B2B products that are making waves," said Gerry Giacoman Colyer, Head of Growth at Siftery. "Trending Products enables business users to stay competitive by discovering the newest and most effective products that improve efficiency and cut costs — before their competitors."
About Siftery
Siftery tracks thousands of B2B software products and hundreds of thousands of companies that are using them. The company collects the data through a combination of programmatic fingerprinting, self-reporting from vendors, and tens of thousands of software buyers through Siftery.com. The Siftery community includes investors, analysts, software buyers and other decision-makers. The company raised a $4M seed round in 2016, and is headquartered in San Francisco.