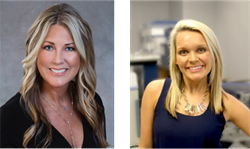 It is an honor to represent an organization that greatly impacts the lives of so many Tennesseans undergoing treatment for breast cancer
Franklin, Tennessee (PRWEB) January 13, 2017
MyGenetx, a molecular laboratory headquartered in middle Tennessee is proud to announce that Kris Wiese, Director of Communications, and Sales Administration Specialist, Mary Taylor Smith, RD, LD, will serve on the 2017 TBCC Board.
Kris Wiese was appointed as Board President after serving one year as a board member and one year as Vice President. She will oversee the newly elected board of 17. Mary Taylor Smith will begin her first year as a board member.
"It is an honor to serve on the board. As a breast cancer survivor, I understand the physical, emotional, and financial impact a cancer diagnosis has on the patient and the family. The Emergency Access Fund (EAF) truly is life-saving to many and at the end of 2016, we had helped over 1,000 patients since its inception. MyGenetx also believes in impacting lives and I appreciate their support in our endeavors with TBCC. This year's board consists of talented professionals from many business sectors and share the same passion to help others, " said Kris Wiese.
Mary Taylor Smith states, "I am honored to serve as a TBCC board member because of everything it stands for. I have a passion for helping others and although I may not be able to personally donate thousands of dollars, I am looking forward to sharing my compassion for others by getting the TBCC name out and finding creative ways to raise money for the EAF. At TBCC we strive to advocate and provide for Tennesseans who have breast cancer in ways other organizations do not. I have a chronic illness myself, and I have had so many people help me when I needed it most; therefore, serving on the board will allow me give back to those who need it most right now. I feel confident that with the help of my fellow board members, we will impact so many lives of those suffering from breast cancer in Tennessee, and I am looking forward to this being our best year yet!"
Jami Eller, TBCC's Executive Director, said, "We are thrilled to have Kris Wiese, her talent, enthusiasm and personal experience serving as President along with Mary Taylor Smith, who brings nutrition, science, and youth to help keep us progressive."
The Tennessee Breast Cancer Coalition was founded in 1995 to increase awareness of breast cancer issues to men and women in Tennessee. Efforts have led to a vast number of accomplishments and the ability to provide assistance for breast cancer patients across Tennessee. In 2002 TBCC established the Emergency Access Fund to provide financial assistance to individuals in financial need due to inability to work and or mounting medical expenses incurred while undergoing treatment of breast cancer. This fund is designed to partner with other established community agencies to provide quick turn-around funding. This fund has provided assistance in preventing evictions, paying utilities, insurance and medical necessities. Recipients must be residents of Tennessee and currently undergoing breast cancer treatments. For more information about qualifications and how to receive assistance from this fund please call 615-377-8777 or visit http://www.tbcc.org.
MyGenetx is a CLIA-certified lab focused on molecular and advanced diagnostic testing.  MyGenetx is a primary resource for transitioning and implementing precision-guided medicine.  The medical team consists of experts in research and clinical product development for genetics.