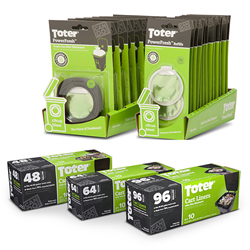 Charlotte, NC (PRWEB) February 01, 2017
Toter®, a Wastequip® brand, and the nation's leading manufacturer of two-wheel carts for curbside collection of waste, recycling, and organics, has recently launched a new line of waste management convenience products, including cart liners and PowerFresh™ odor-eliminating fragrance pods and refills for trash cans and carts. These products are designed to make trash storage, handling and disposal more convenient and less unpleasant.
Created with odor eliminators to help combat smell, Toter's cart liners are the first full-size bags made specifically to fit two-wheel carts. Designed for 48-, 64- and 96-gallon indoor or outdoor waste, recycling and organics collection carts and compatible with Toter and non-Toter brand carts, these durable liners protect carts from potential spills and other smelly disasters, eliminating the need for rinsing and frequently cleaning carts. In keeping with Toter's commitment to sustainability, the new cart liners are eco-friendly and made with 75% recycled material, to safeguard carts and the environment at the same time.
PowerFresh odor refills drop into an easy-to-open plastic pod that snaps shut and adheres to the inside of the trash can lid to eliminate offensive trash odors. The plastic PowerFresh pod housing features an industrial adhesive backing designed to withstand heat, cold, dust, and vibration to ensure it remains adhered to the lid, no matter how harsh the environment. Compatible with any brand trash can or cart, the two-pack odor eliminating .22-ounce fragrance refills contain citronella and provide a fresh citrus fragrance for up to 60 days.
"No matter how clean we keep our homes and yards, everyone can relate to the unpleasant experience of getting a whiff of a foul stench from a dirty or simply full trash can" said Andy Bardsley, Vice President of Toter Retail/Pro Sales, "At Toter, we pride ourselves on listening to the market and creating solutions to pressing issues. These new 'clean to the extreme' accessories address a distinct consumer demand, and we believe they will be very popular."
An ideal solution for consumers who keep their carts in indoor spaces or close to their homes, Toter cart liners and PowerFresh pods and refills and are available to consumers online through online retail outlets, including HomeDepot.com, Amazon.com, Wayfair.com, and Lowes.com.
ABOUT TOTER
A Wastequip brand, Toter is the leading manufacturer of curbside refuse and recycling carts for waste haulers and municipalities throughout North America. Available in 21, 24, 32, 35, 48, 64 and 96 gallon sizes and in nine granite and five solid colors, Toter carts can be customized with in-mold lid graphics to support recycling programs, as well as hot stamps and serial numbers for easy identification. The company also produces specialty carts for document management, electronic waste, organics and medical waste. Through the company's proprietary Advanced Rotational Molding™ process, Toter carts offer greater service life and strength while using less plastic than injection-molded competitor products. The company also emphasizes sustainability, using up to 50 percent recycled plastic in its carts. Toter curbside carts are also the only commercial-grade carts available to consumers at major retailers nationwide. For more information, visit http://www.toter.com.
ABOUT WASTEQUIP
Wastequip is the leading North American manufacturer of waste and recycling equipment, with an international network of manufacturing facilities and the most extensive dealer network in the industry. Wastequip's broad range of waste and recycling equipment and systems is used to collect, process and transport recyclables, solid waste, liquid waste and organics. The company's brands include Wastequip, Toter, Galbreath, Pioneer, Mountain Tarp, Cusco, Go To Parts, and Accurate. For more information, visit http://www.wastequip.com.
###