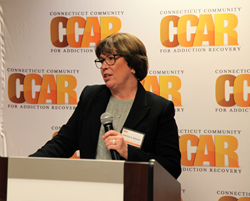 Hope is essential in order for people who are still suffering from the disease of addiction. With hope, comes recovery.
Rocky Hill, Connecticut (PRWEB) February 01, 2017
CCAR staff, board members, volunteers, community partners, and allies congregated to celebrate recovery and learn about the year in review. John Hamilton, President of the CCAR Board of Directors, along with five volunteers all in recovery from alcohol and other addiction highlighted the impact CCAR's services had on their lives.
Keith Brayboy spoke about volunteering at Bridgeport Recovery Community Center, touching on the power of contributing to his community. Jennifer Delvalle, from the Windham Recovery Community Center, told the room how weekly Telephone Recovery Support strengthened her recovery through helping others. Lionel Harris highlighted Recovery Oriented Employment Service, speaking about how it renewed his curiosity for the world around him and drove him to understand himself. Teodola Hicks spoke about finding herself through trust and responsibility at the Hartford Recovery Community Center. Regina McGarrah delivered a powerful speech advocating for Recovery Coaching and how it has helped shape her recovery. Each story portrayed the passion CCAR's volunteers have for putting a positive face on recovery and the continued honor to provide the opportunity.
CCAR Executive Director Phil Valentine took this opportunity to grant the Bob Savage Recovery Advocate of the Year Award. The award, inspired by Savage's courage to advocate frequently and effectively for the recovery community, their family members, and allies, was awarded to Patricia A. Rehmer for her nearly thirty years of service to the recovery community. Her legacy as Commissioner of DMHAS will be remembered just as sure as her new role as Senior Vice President for Behavioral Health with Hartford HealthCare will be transformational and appreciated. Three other awards for appreciation were given to retiring board members Tom Kirk, Roseann Rafala, and John Hamilton for their years of service.
Phil Valentine then took the stage to provide the Year End Review. Mr. Valentine, celebrating 18 years with the organization and 29 years of long-term recovery, told a moving story about this son's torn ACL and his journey back to the soccer field. Valentine compared the necessary surgery to fuse the ligament to bone as treatment for addiction, and physical therapy to recovery support services. Just as an athlete cannot return to the field the day after an operation, a person in recovery should not be expected to be completely healed the day after treatment. Mr. Valentine then highlighted the years past and the words he has used to personify them. Phrases such as "stretch" for 2011, or "excellence" in 2012 have been used to inspire staff and volunteers to build the recovery community. 2016's word was "continue", through everything: continue. For 2017, Valentine likened CCAR to a seed, establishing "deep roots", continuing to build the potential energy to burst forth through the soil.
"In 2017 we have an incredible opportunity to embrace initiative. We have to take the initiative. There will never be a better time to tell our stories, to promote recovery support services, to battle this plague that we're facing than right now. I'm encouraging all of us: staff, friends, volunteers, board members; step outside of our comfort zones and take the initiative."
About CCAR: Since 1998 the Connecticut Community for Addiction Recovery (CCAR) has organized the recovery community (people in recovery, family members, friends and allies) to put a face on recovery and to provide recovery support services to help sustain recovery. By promoting recovery from alcohol and other drug addiction through advocacy, education and service, CCAR strives to end discrimination surrounding addiction and recovery, open new doors and remove barriers to recovery, maintain and sustain recovery regardless of the pathway, all the while ensuring that all people in recovery, and people seeking recovery, are treated with dignity and respect. CCAR envisions a world where the power, hope and healing of recovery from alcohol and other drug addiction is thoroughly understood and embraced.