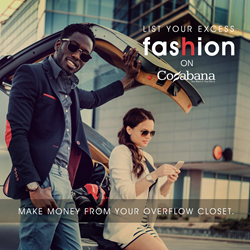 Cosabana is a mobile and online Marketplace Technology platform that leverages the power of technology to dramatically simplify Buying, Selling Exchange and Donating of un/worn Fashion. Toyin S. Bello, CEO
Washington, DC; New York; Chicago; Los Angeles; Miami; Toronto (PRWEB) February 01, 2017
Today marks the launch of Cosabana (http://www.Cosabana.com), a new website and mobile app that unlocks the hidden value in every man's wardrobe and woman's closet, giving users a safe and easy way to sell their unused and fairly used Clothing and Fashion Accessories to the world. Cosabana's platform provides you the opportunity to buy, sell, exchange and donate your products to anyone. Cosabana provides $1,000.00 credit to everyone that lists at least 10 products on its site for use to purchase on the site.
The average American woman and household has worn barely 25% of his/her wardrobe in the last year, yet we continue to spend upwards of $7,500 year on new Clothing, Fashion and Accessories, leaving many with a house full of "nothing to wear" by many women. While for men it is barely 75%. We want to turn all of those used or barely used to cash or exchange or donation to others or non-profit organizations, so says Toyin S. Bello, the Chairman and CEO of Cosabana. Cosabana solves this common problem with a peer-to-peer marketplace that brings the ease of retail e-commerce and gold-standard customer service to the Resale, Exchange and Donation market. We extend this capability by also providing two other choices: Exchange and Donate if they choose to use those options.
COMPANY DESCRIPTION: BUY. SELL. EXCHANGE. DONATE
Cosabana will become one of the largest Peer to Peer Electronic platform to Sell, Exchange or Donate Fashion. This is the platform where women and men come to buy, sell and share their personal style with their peers and colleagues. Millions of users across the country come together every day to list items for sale and shop directly from other people - all through their online technology platform. With over 10,000 brands and 700,000 Wardrobe and closets open for sale, Cosabana is redefining the way we will all consume fashion materials. This platform will be rolled out to Canada and different parts of the world in the months to come.
Today, Cosabana users will be able to add more than $5 million worth of material and products into the marketplace platform each day. There are currently 700,000 women selling and millions of shoppers.
PLATFORM DESCRIPTION:
Cosabana is a mobile and online Marketplace Technology platform that leverages the power of technology to dramatically simplify Buying, Selling Exchange and Donating Fashion. The Cosabana platform enables users to connect with one another through the Technology platform as well as on other social networks such as Facebook, Twitter, Instagram and Pinterest. Cosabana is currently building its Mobile Applications on iPhone, iPad, and Android.
On the backend, Cosabana directly handles all payments, shipping, and front line customer support so that users can Buy, Sell, Exchange or Donate with confidence with a fully secured Technology platform.
The Main Features of the Platform includes the following:

Create a Covershot with Cosabana's proprietary photo filters
Upload the Video using your Mobile phone or upload a professional video for each product and or User Main page
Buy: The platform allows members to purchase anything online either close to their physical location at the time of browsing or later.
Sell: Upload and broadcast your listing in less than 60 seconds
Donate: Make available to member products that you want to donate to anyone of several designated non-profit organizations anywhere.
Exchange: Provide a platform to allow you to exchange your products with other members of the consumers network.
Share your finds or listings with your friends in the app or through Cosabana's integration with Facebook, Twitter, Instagram, Pinterest, Tumblr, email and SMS
Introducing a new simplified commerce experience designed for the mobile phone – a true one-click buy with no intermediate shopping cart
Negotiating Offer: real-time negotiating tool that allows private one on one bidding on listed Items
CORPORATE INFO:
Incorporated: February 2016
Launched: December 2016
Headquartered: Annapolis, MD
Investments: UB1640 Holding Company
KEY PERSONNEL:
Founded by:
Toyin S. Bello, President, Chairman & CEO
Chairman & CEO: UB1640 Holding Company
Website: http://www.Cosabana.com
Instagram: @Cosabana
Blog: blog.Cosabana.com
Twitter: @Cosabana
Facebook: facebook.com/Cosabana
Pinterest: pinterest.com/Cosabana