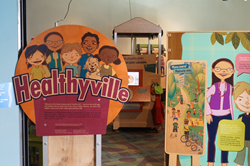 This exhibit is an important aspect of our work to support the growth of healthy children and healthy communities.
Norwalk, CT (PRWEB) January 30, 2017
Children's health matters. Not only is it a topic of vital importance for the Tri-State Area's parents and families, but it is a critical issue for the short- and long-term health of our community as well. As children's early experiences help shape their lifelong habits and views on health and well-being, it is crucial to introduce and promote key health messages to them today. Healthyville, a nationally touring exhibit created by Stepping Stones Museum for Children, delivers those important health and wellness lessons to children and families in a fun, play-based manner. This is a primary reason why Stepping Stones is excited to bring back Healthyville to Norwalk on Saturday, January 28.
Healthyville is a place for everybody. This bilingual (English/Spanish), interactive exhibit teaches health and wellness lessons through play-filled activities and educational messages that foster learning by doing. Designed primarily for children ages 5 – 12 and their parents, caregivers and teachers, Healthyville provides visitors with hands-on opportunities to explore health topics in ways that help them understand their bodies, the importance of making healthy choices and how to apply these concepts in everyday situations. Healthyville features engaging content about how the body works and the effects of our positive or negative health choices.
The young "residents" of Healthyville present fun facts about nutrition, fitness, safety, hygiene and the functions of the body. Meanwhile, Stepping Stones visitors can explore how different activities affect heart rate, scan a variety of foods for nutrition facts, play sugar or salt detective and ride a bike or row a boat alongside a skeleton. Children can take a look at particle-trapping hairs and boogers inside a giant nose, learn why it's important to cover the nose during a sneeze, brush and floss teeth inside a giant mouth, get moving on the fitness trail, balance their energy in with their energy out, choose the proper safety equipment and much, much more!
According to the Alliance for a Healthier Generation, nearly 1 in 3 children in the United States today are overweight or obese. The Alliance states that this current generation could be the first in American history to live shorter lives than their parents. To address this growing public health concern and to encourage healthy living and smart choices around nutrition, fitness, hygiene and safety, Stepping Stones Museum for Children launched the original Healthyville exhibit in 2006. Due to the immense popularity of the original exhibit, Stepping Stones created an expanded and improved travel version of Healthyville. This updated experience launched at our Norwalk, Connecticut location in February 2014 before departing on a multi-year tour that took it to leading children's museums across the nation, including the Bay Area Discovery Museum (Sausalito, CA), Boston Children's Museum (Boston, MA), Children's Discovery Museum of San Jose (San Jose, CA), Long Island Children's Museum (Garden City, NY), Minnesota Children's Museum (St Paul, MN) and the Stearns History Museum (St. Cloud, MN). Now in 2017, the museum staff is excited that this exhibit is coming home.
"Healthyville grew out of the knowledge that early intervention and prevention are critical for establishing healthy lifestyles," said Rhonda Kiest, President and Chief Executive Office of Stepping Stones Museum for Children. "This exhibit is an important aspect of our work to support the growth of healthy children and healthy communities. Healthville has been an extremely popular exhibit at Stepping Stones and we are thrilled to provide this experience to the many people who will interact with the exhibit as it tours the United States."
In developing the Healthyville traveling exhibit, Stepping Stones worked in partnership with many community organizations and advisors, including the Bright Bodies Program at Yale School of Medicine, the Norwalk Health Department, Norwalk Hospital, Grade A ShopRite, Yale-Griffin Prevention Research Center, Yale New Haven Children's Hospital, the Yale School of Public Health, the Yale School of Medicine and Whole Foods Market.
Healthyville will be at Stepping Stones through Labor Day. This traveling exhibit is presented locally by Primary Tour Sponsor Whole Foods Market; Community Tour Sponsors Dole Food Company, Inc. and the Ernest and Joan Trefz Foundation and Supporting Tour Sponsor Stamford Health with additional support from Aquarion Water Company and Bigelow Tea.
About Stepping Stones Museum for Children:
Stepping Stones Museum for Children is an award-winning, private, non-profit 501 (c) (3) children's museum committed to broadening and enriching the lives of children and families. For more information about Stepping Stones, to book a field trip or schedule a class, workshop or facility rental call 203-899-0606 or visit http://www.steppingstonesmuseum.org.
Stepping Stones Museum for Children is located at 303 West Ave., Norwalk, Conn., exit 14N and 15S off I-95. Museum hours are Labor Day through Memorial Day, Tuesday-Sunday and holiday Mondays from 10 a.m. – 5 p.m.; and Memorial Day through Labor Day, Monday-Sunday from 10 a.m. – 5 p.m. Admission is $15 for adults and children and $10 for seniors. Children under 1 are free.