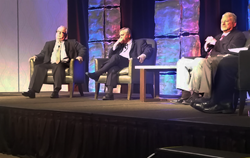 Sanford, FL (PRWEB) February 03, 2017
Hernon Manufacturing is proud to announce Edgardo Rodriguez, Director of Sales and Marketing and President of MACF, a regional manufacturing association, joined other industry leaders as a panelist at the 2017 National Policy Summit. Mr. Rodriguez participated in a discussion to improve workforce training in higher education institutions which occurred on January 28 in Orlando, FL. "We are excited to have members from our team contribute to the formation of new curriculum goals" said Harry Arnon, President of Hernon Manufacturing, "Mr. Rodriguez has contributed significantly to the success of our team and his experience within the US manufacturing industry brings a valuable perspective to the discussion." The summit, which offers a place for university and college administration to learn the needs of the markets into which graduates are travelling, helps to better align educational materials and methods with industry needs.
This discussion is particularly pertinent for Hernon Manufacturing which just expanded their Sanford, Florida headquarters in 2016 and is now seeking experienced engineers and specialists to fill new demand in their workforce. "Everyone here at Hernon is proud of the growth the company has exhibited in recent years," said Mr. Rodriguez. "Now, if we are going to keep it up, we have to expand our workforce and contribute to community events like the Policy Summit. It is the only to make sure skilled labor is available when we need it so we can stay competitive long term."
https://education.ufl.edu/futures/files/2016/12/Summit-Agenda-new.pdf