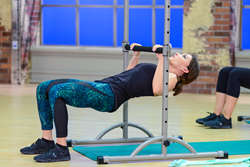 If it doesn't challenge you, it doesn't change you! Cathe Friedrich
Exton, PA (PRWEB) February 01, 2017
Much anticipated by her loyal following of "Cathletes" the Fit Tower™ Home Workout System developed by fitness innovator and Hall of Fame Inductee Cathe Friedrich does not disappoint. Cathe has developed this system to incorporate elements of yoga, ballet, Pilates, cardio + traditional strength training – taking the ballet barre phenomenon to fun, effective and challenging new heights.
Cathe's motto has always been "If it doesn't challenge you, it doesn't change you!" and with the Fit Tower™ Workout System Cathe promises to do just that.
The Fit Tower™ Workout System includes the patented Fit Tower™ with 10 adjustable workout levels, a Medium-Tension Loop Resistance Fitness Band, a Light-Tension Long Resistance Fitness Band, an Exercise Mat and 3 Progressive Workout DVDs.
Designed with convenience in mind, the Fit Tower™ is easy to assemble and store, making it the perfect choice for home exercises with limited space. The system features customizable Beginner, Intermediate & Advanced Workouts. Users can progress based on fitness level as well as choose 10-minute targeted segments (focusing on either lower body, upper body, core strength, cardio, stability & flexibility) or 30-minute complete total body workouts.
Providing limitless exercise possibilities to tone and strengthen the total body while increasing flexibility and endurance, Fit Tower™ is already receiving rave reviews – earning 4.7 out of 5 stars just months after its mid-2016 launch.
Here are just a few reviews:
"I am a very active person and consider myself a more advanced user, and I loved all the different ways Fit Tower can be incorporated into my fitness routine" Philadelphia, PA
"The DVDS are great for those just getting into fitness and who want to progress over time to harder workouts." Jackson, MS
Fit Tower™ offers a 30-Day In-Home Trial as well as convenient payment plans and Free Shipping. Discover the exciting new Fit Tower™ Home Workout System here.
Press Inquiries download Fit Tower™ Media Kit here.
Or contact press(at)fittower(dot)com
About Fit Tower™
Launched in 2016, The Fit Tower™ Home Workout System was designed to improve flexibility, strength, posture and range of motion. Combining elements of Pilates, yoga and ballet as well as traditional strength training and cardio exercises, fitness expert & top personal trainer Cathe Friedrich developed the Fit Tower Workout System to target the entire body with focus on "trouble areas." Workouts feature progressive modifications making the Fit Tower Workout System perfect for ages 14-80 and all fitness levels.
About Cathe Friedrich
For over thirty years, Cathe has built a following by providing fun, flexible and motivating ways to exercise and stay fit! Cathe's followers have advanced in their fitness abilities and have watched their bodies transform as she's continued to expand her workout offerings, staying focused on three guiding principles: Professionalism, Passion, and Quality. Cathe continues to produce unique, intense, and challenging workouts for all body types and fitness levels. Today, her fitness empire, which includes over 400 DVDs and live stream workouts, is one of the largest privately owned fitness video libraries in the world. Cathe's dedication and strong influence on the fitness industry led to her induction into the Fitness Hall of Fame in 2011.
###